How to Protect Yourself from Identity Theft?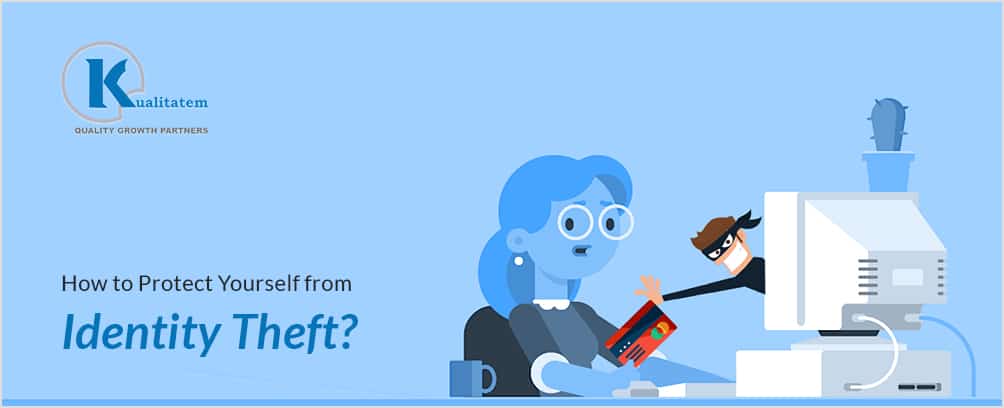 April 17, 2017
Kualitatem
21st century is also the age of cybercrime. Among various techniques that the cybercriminals use these days, Identity Theft is also a very well-known technique. Identity thieves use personal information like date of birth, social security number to commit frauds and other crimes. There are some very common ways that are used by identity thieves to steal sensitive information. Some of them include:
Lost wallets or mobile phones
Hacking of unsecured computers
Once the identity thieves are able to steal your information; they can cause a significant damage to you, including order different products online, run up debt and loss of benefits etc.
Now that we have seen that identity theft can cause significant losses, we should look at certain ways to protect ourselves from such identity thefts. These are a couple of quite simple techniques that can be used to ensure protection against identity theft.
Personal Records
Almost every one of us has bank accounts, credit cards and other financial accounts. Till date all these institutions use printed documents for communication. These documents like bank statements, credit card statements, solicitations etc. from banks are mostly mailed to client's office or home address. Although "private and confidential" is clearly mentioned on the envelop, but most of us casually leave these letters on our tables after opening and reading them. Best practice is to avoid leaving important documents like the bank related documents unattended. If you require using these documents in future then keep them in a safe place and if the documents are no longer required then shred or tear them up in order to dispose them off permanently.
Other than this there are many different documents that contain some of our personal information like the ATM cards, credit card receipts and print outs of some of our virtual transactions. Make sure that you are disposing all such documents in time.
Share with Care
This is the age of social media as well. We all have social media accounts and we share lots of information on these social media accounts. Also, the information shared on social media accounts is sometimes visible to the public so anybody can look up this information on internet. Avoid sharing personal information like DOB, address, SSN, phone number etc. on your social media accounts. Also check security settings of you social media accounts so that unwanted users don't have access to your social media accounts.
Protection against Phishing Attacks
Phishing attacks can also be called scams. Scam artists design these attacks so that victims fall into their traps considering them as some government agency or a legitimate bank representative. You may receive calls or emails from scam artists asking you about your personal information. They also send you emails requiring you to login to web pages with your personal details. These pages look legitimate but are actually fake pages created by scammers. Be very careful while being online. Do not respond to any online request to share your personal information line account numbers, passwords etc. if you want to stay safe then make a rule for yourself i.e. not to share any personal information unless you have double checked the source.
Password Policy
Living in the digital age we need to make it a habit to have tough passwords. Identity thieves would love to discover a victim because getting the password of an account opens doors to a lot of information about a person. In order to stay safe; practice at least the standard password polices. Passwords should be at least 8 characters long and include digits & special characters as well. Keep changing your passwords regularly and try having different passwords for different accounts. This will help you in case one of your accounts gets compromised.
Stay Anonymous
Before the advent of social media, common people mostly stayed anonymous. But now that almost all of us are active on social media, we tend to share lots of personal information every now and then. Avoid sharing personal information like home address, date of births, kids names, anniversary dates etc. Digital thieves and scam artists are always looking for such small but important information, this helps them better plan their scams and become more precisely targeted. So stay anonymous and stay safe.
Check Your Statements
The ultimate target of the identity thieves is to cause financial damages to you. These damages can be either big or sometimes very small in volume. To avoid this situation; regularly and carefully check your credit card and bank account statements. Carefully check your statements for all the transactions especially online transactions. If you find anything unusual immediately report it. Secondly if you are not receiving your statements at all then take this matter seriously as someone might have changed your billing address so that you don't receive your bank statements at all.
Safeguard Your Computing Devices
Our lives revolve around our computers and cell phones. We even do most of our banking transactions using computer and cell phones. We keep lots of information about us in our computers and cell phones. These devices are vulnerable to hacks and theft. In order to keep yourself and your personal information safe; avoid putting all your information on your computer and cell phone. Install / enable firewall and antivirus software, use strong passwords or bio-metric authentication where possible. Cell phones allow users to enable features like "remote wipe", you should enable these features on your devices so that personal information can be kept safe even in case of theft or loss of mobile device.
These are some of the useful techniques that we should follow as standard practices in our daily lives as they will help us remain safe from identity theft and subsequently keep us safe from financial or reputation loss and above all help us avoid lots of troubles.