Has Your IT Team Start Using DevSecOps Already Or Remains Old School?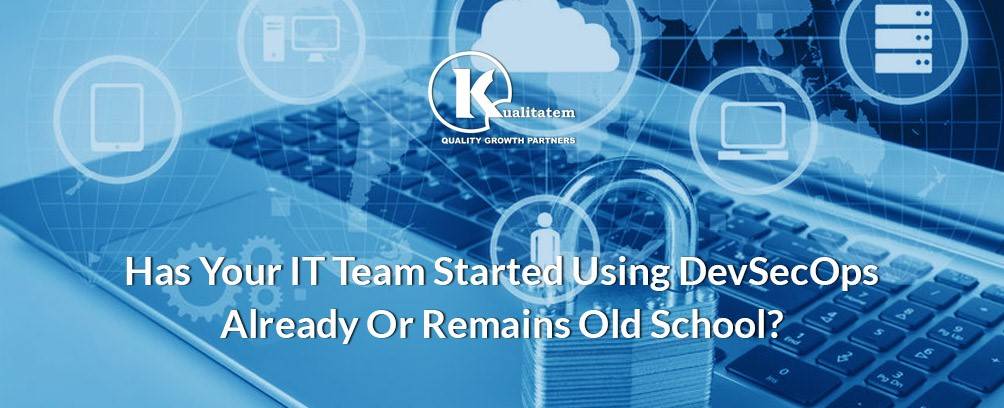 November 23, 2017
Kualitatem
The primary concerns of a Software Tester are all about security and assuring a product is free of bugs and other issues. DevSecOps is going all the way to bring new levels of safety in the cyber-world. No one can negate the value of the security being offered to keep customer data and other confidential information safe and secure. In case, a software or application fails to provide the required safety requirements, the whole process of development and testing fails.
If we look back in the previous months, we will find a huge number of drastic cyber breaches that have put many tech companies at a mega loss.
For an instance, the most recent WannaCry ransomware had wreaked havoc on numerous enterprises, including the National Health Service hospitals and facilities in the UK. Although it was dug out by security experts, it remained successful at adversely affecting the trust hospital, suspending vital medical procedures, and putting a number of patients' lives at risk.
WannaCry is just one example. There is a long list of security breaches marking the history in bold letters. Instead of going over them and mourning over the loss, it's time to take action and get this …
Insignificant to many, but significant to some, but a question rises here!
Have the tech firms found a practical way to cope with these cyber blunders? Or Quality Assurance is just an everyday techie term for them?
DevSecOps is the ultimate answer to all the security-related queries!
What Actually is DevSecOps?
Development-Security-Operations, or DevSecOps, is a progressive technique that is saving more time and costing less money for mega tech firms. It amazingly breaks the traditional stereotypes of security testing processes and the techie-toes too need to get out of the old boundaries as well. The process of DevSecOps helps achieve greater efficiency and productivity via means of team collaboration, but the DevSecOps approach covers security principles.
It teams up developers, security experts, and operation engineers and makes it easier for them to provide an error-free software or application. The process of DevSecOps is totally pre-scripted and automated.
How Can It Benefit a Tech Firm?
There is a long list of benefits of DevSecOps that can turntable for your tech company in the field of QA and testing.
Let's discuss some of the essential benefits:
Pre-Scripted Coding
Through DevSecOps, developers will do most of the work by pre-scripting the security code at the beginning of developing an app or software. The pre-scripted coding works as a security firewall towards the hackers and cyber-attackers from breaching any of the highly-confidential IT related scheme or product.
Automated Process
DevSecOps efficiently automates the whole developmental process with the addition of an API (application programming interface) to begin, control and provide testing results simultaneously.
Also, it induces the techie geeks to use upgraded support systems to handle the common development tools such as bug tracking portals, IDEs, and CI servers.
Immutable Infrastructure
DevSecOps will ensure developing a secure application built upon an immutable infrastructure that will reduce any lagging, including code crashing, flaky build-up by increasing the efficiency of the process of automation and development lifecycle.
Saves from Bad Publicity
If you are a well-renowned IT company and have plenty of magnificent clients, then DevSecOps can become your savior. It helps in autonomous threat hunting, which subsequently saves you from any financial losses and of course, a bad reputation that comes along otherwise. With increased sales and a flawless reputation, you will be able to effectively sell a secure IT product.
Security – Responsibility for All
DevSecOps makes everyone responsible for security and safety concerns. When everyone from the tech team works together on a software development project, the privacy and security concerns become their ultimate philosophy.
So if a tech company isn't following the newest trends in QA and security, then it is surely going to lag behind in the cyber-world. There is so much to conquer and gain, then why not get benefits from the very latest cyber-terminator, the DevSecOps technique.