Enterprises Opting for Independent Software Testing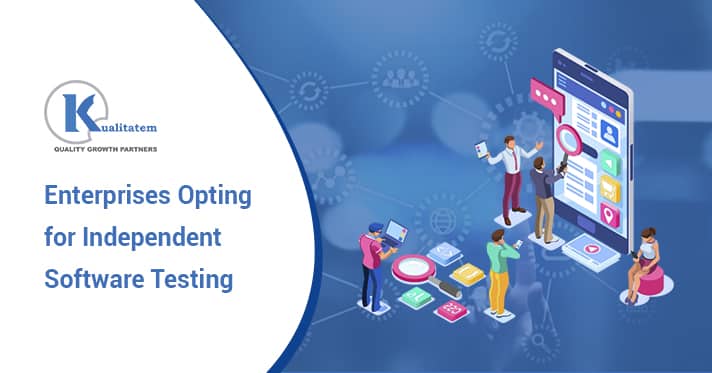 September 28, 2020
Hiba Sulaiman
WHO (World Health Organization) has stated COVID-19 as a global pandemic, which is adding to the challenges enterprises face on a daily basis. One of the main challenges firms face when testing their software applications is to achieve effective mitigation of risks when the dependencies on software testing are compromised. Many firms had to take immediate action and overcome some of these challenges within the first weeks of the lockdown phase. Whereas, some enterprises are still looking for a solution. The current crisis has highlighted the gaps between operational models that have a direct impact on quality software delivery.
Enterprises need to analyze the impacts of unforeseen disasters such as the Coronavirus can cause major disruptions in the business operations and manufacturing slowdowns. Since majority business operations are technology dependent, ranging from cloud servers hosting business-critical data, to official devices employees work on. When systems that are affected by disasters are run, they become a nightmare for IT departments not only to maintain their operations but also accurately nullify the impact on the systems and take steps to protect them in the future.
Firms should be prepared for Disasters like COVID-19
We know that COVID-19 has also affected the IT businesses, where employees and contractors deliver against their costs. Enterprises who are ready for such disasters have a better chance of surviving in such pandemic situations. However, if organizations fail to accurately assign costs associated with projects or products and achieve their forecasted results, they begin to see discrepancies in projected outcomes against delivered outcomes.
The Need of the Hour – Independent Software Testers
As companies take initiatives and reevaluate their workflow with the new precautions in mind, it is better to rethink how the processes need to be set up, whether designed for a project-based or agile environment. A firm's ability to appropriately utilize its investments, optimize resources, and report on value is always going to be useful, but it's more important than ever to hire an independent software testing company. It will enable them to automatically update forecasts and track costs that organizations will be able to assess the impact of COVID-19 and plan accordingly.
We know that enterprises have invested in building and utilizing their own QA teams. However, they have had to constantly struggle in order to maintain a skilled QA team that is readily available on demand. While keeping in mind the current demands of the software market, skills and demand for QA are both highly prone to change. In addition, when software testing goes beyond just the developer and his team, enterprises get the unbiased and honest results without creating scenarios where team members point fingers at each other. An independent software testing company has a group of testing experts working in isolation from the development team, who are focused only on the report quality issues.
Let's have a look at a few reasons why enterprises are opting for independent software testing services:
Quality of Testing Improves:
As business operations grow more complex during lockdowns, organizations are unable to update their QA teams, which has a direct impact on software quality. On the contrary, independent testing teams provide an impartial and third-party view of software that leads to efficient testing required to meet customer expectations. Independent testing focuses on detecting more defects as compared to testing performed by inhouse QA teams, where testing cycles are often compromised due to lack of time or budget. They stick to customer goals and can better handle management pressure.
Utilizing Best Industry Resources:
An independent software testing company provides a firm with the most skilled and experienced testers equipped with the latest technical knowledge. These companies have their own testing centers of excellence (TCoE) and equip their QA staff with the latest software testing tools, thus opening doors to expertise earned from years of industry experience. They also have certified QA testers acquired from institutions like ISTQB (The International Software Testing Qualifications Board).
Decreased Management Efforts:
Since COVID-19 has emerged, project managers have also faced various challenges. By hiring independent testers, they are saved from the hassle of hiring and training testers and do not require handling surplus staff. Enterprises can hire testers on-demand, with the satisfaction that independent testers have years of industry experience and comply with industry standards. When a tester moves from one domain to another, he does not require cross-training. Thus, helping businesses remain at their forefront during disasters.
Cost Reduction:
When firms hire an independent testing company, it eliminates their need to set up any kind of hardware and software that is required for testing purposes. Enterprises no longer remain bound to set up test environments, maintain testing practices or tools. In fact, independent QA testing helps them gain access to specialized resources that are already trained. They also have access to automation testing, which helps firms cut down their costs a great deal.
Flexible and Remote Working Teams:
Due to lockdown and social distancing, many business operations have been adversely affected. Teams working in various time zones were unable to maximize their testing efforts. Here, independent testing teams play a positive and crucial role by providing the flexibility of working hours. These teams ensure a structured communication that includes project status reports on a regular basis, bug triage meetings, and smooth flow of development and testing processes. These teams also provide detailed documentation to have a track record of the testing that is performed.
Conclusion
It is obvious that setting up a full-blown QA process is time-consuming. Small IT firms need a lot of time to set up an in-house QA team and this becomes a challenge for them due to the lack of skilled resources. While for bigger firms, it becomes challenges as they need to meet customer expectations and projected timelines. In addition, the current pandemic has changed how businesses once operated around the globe. All these factors have increased the demand for a well-established independent software testing company, that can intangibly improve software quality and ensure releases smoothly.