Embedded Software Testing Challenges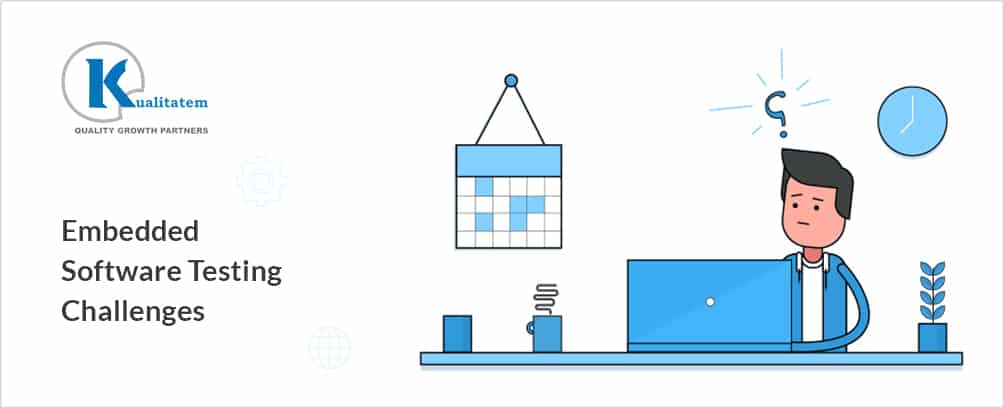 Software Testing is the important phase in software development. First of all we gather the requirements and then analyze those requirements. High-level design is created and developed and then finally the testing phase starts. Initially, Unit testing is performed and then Integration and System testing is performed. Embedded Software is often written in dynamic and complex applications such as cellular phones, media players, automobiles, airplanes and medical devices etc. First we need to understand the major differences between embedded software and basic software. The first thing is that embedded software is less visible to the end user. Client interfaces are quite limited. There might be a console based application or a simple command line interface. On the other hand the inter component interfaces are too much rich and complex- including API's to the high level software, data exchanges, control and other standards etc. The second main difference is hardware dependency. Embedded software is closely related to the hardware.
Some of the challenges that are faced while conducting embedded software testing are as follows:
Hardware Dependency
Hardware dependency is amongst the leading challenges faced during embedded software testing due to limited access to hardware. Testing is performed remotely through remote servers which means that embedded software testing team doesn't have the physical access of hardware.
Defects Ratio
Another aspect is when software is developed for a freshly created hardware, high ratio of hardware defects can be identified during the testing process. Identified defect may be related to the hardware, not only software. What's worse is that the software may work fine with one variant of the hardware, and doesn't work with another. That's definitely a challenge for the testing process.
Reproducible Defects
Defects are harder to recreate/reproduce in the embedded system case. That forces the embedded testing procedure to esteem every defect occurrence much higher than in a customary case, besides to collect much information as could sensibly be required to adjust the system to discover the foundation of the defect. Joined with the extremely constrained troubleshoot capacities of the embedded products, gives us another test.
Software Updates
Limitations related to the software updates make the testing process very challenging in finding bugs as would be prudent for a given software version. It also increases importance of build and deployment procedure.
Conclusion
As it has been made clear in the challenges section that in case of embedded software, testing team faces a number of specific challenges. To overcome these challenges we can use the appropriate tools to enable the automation of testing. By finding and excluding dead and ineffective code, it can be ensured that the software uses the hardware at full potential.