Cyber Security Awareness Month: How Cyber Secure Are you?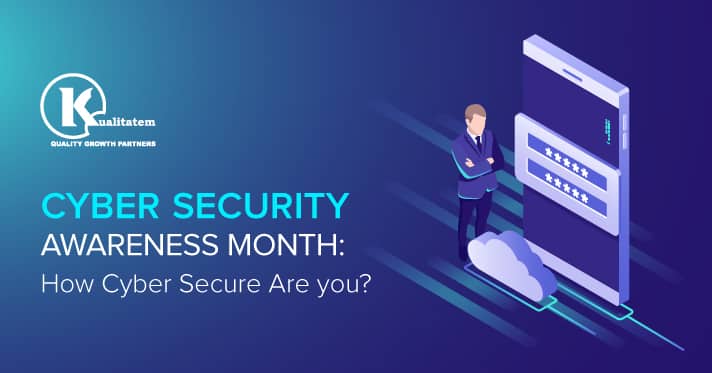 October 10, 2018
Kualitatem
As of July 2018, there is a total of 4.1 billion active internet users worldwide. This shows that people across the globe are increasingly relying on the internet for literally everything. In fact, they have their confidential data saved online.  As a result, we get to hear a new story regarding cyber-attacks every day.
The US Department of homeland security (DHS) and the National Cyber Security Alliance launched a cyber security awareness program in 2004. The main objective behind this campaign was to create an awareness about online safety measures among masses.
Cybersecurity attacks have affected businesses worldwide. According to statistics:
The total number of publicly disclosed data breaches in 2017 was 1579.
By 2021, the damage costs incurred by cybercrime is expected to hit $6 trillion.
As part of the global efforts to increase cyber security awareness, the month of October is dedicated to increasing end-user information security awareness within the organizations. Among the world's leading providers of Information Security consultants and IT trainings, Kualitatem is also actively conducting cyber security awareness drive to help you develop critical cybersecurity skills.
Ways to Increase Cybersecurity Awareness Among Management
Consider security initiatives as an integral part of business objectives.
Arrange weekly meetings to discuss your present security initiatives and recent updates related to breaches.
Usin

g industry benchmarks and audit findings like BSIMM to demonstrate management regarding the tips to improve security measure.

Keeping management alert about ransomware, spear-phishing, and other hacking operations targeting executives and teaching methods to avoid them.
Ways to Increase Cybersecurity Awareness Among Developers
Demonstrate the developers to view from attacker's point of view, via particular snippets from your own applications.
Arrange IT security sessions with developers and let the security members explain about existing vulnerabilities. This will help them understand the developer's perspective in terms of secure coding.
Look at methods to make secure coding simpler for developers, such as assimilating resources and security testing in early software development lifecycle.
Always ask developers to give feedback about how security policies align with workflows.
Ways to Increase Cybersecurity Awareness Among All Employees:
Find security champions all across the organization, not just in the development team. This will guarantee that security messages are being followed by all employees.
Use actual cases of breaches accomplished by phishing and social engineering targeted at non-security employees.
Explain employees regarding risks of posting confidential information online and the ways in which it can be used against the hackers.
Kualitatem understands the significance of being cognizant and alert in the cyberspace. Our aim is to train you on identifying your role at large to mitigate potential cyber threats that come in all forms.