Strengthening Cybersecurity in Covid-19 for Remote Teams – Kualitatem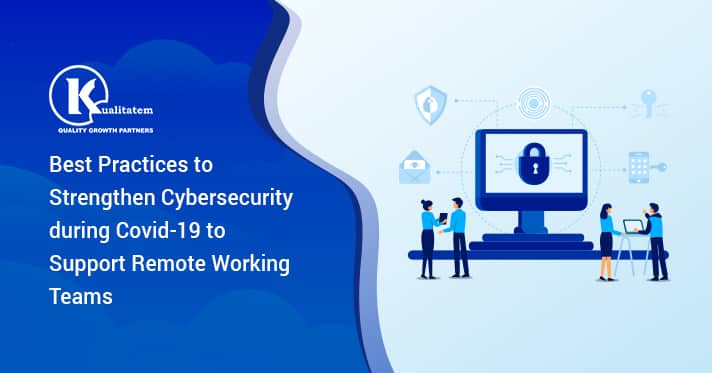 August 9, 2020
Hiba Sulaiman
As businesses explore new ways of working in the wake of the Coronavirus, the rapid increase in remote work has created challenges for IT teams and employees. One of the biggest concerns with respect to the current pandemic situation is the cybersecurity posture of a business. The only way to survive this is with a proper cybersecurity plan within the COVID-19 crisis. According to research by Security Magazine, majority business owners are concerned about the increases in the risk of cyber-attacks due to having a remote workforce. In a similar study by CNBC, a security officer explained that there was a 40% increase in the phishing and hacking attempts since the pandemic had started.
The existing data and security plans are no longer enough to help the organization in adopting the fast-evolving landscape. Organizations need to hire an independent software testing company and upgrade their cybersecurity plans with respect to their remote workforce. In order to handle remote working amidst COVID-19, it is important to be safe from the increasing cybersecurity threats. It is essential to keep all the work completely secure and easily accessible without compromising its privacy, following are a few best practices for remote working during COVID-19:
Prioritizing Security Patches and Upgrades
the sudden need for deploying a remote workforce implies a great amount of work for IT teams, administrators, and managers across different departments. Due to which there may be a delay in the routine network patches, ongoing security upgrades, OS patches, etc. that can create opportunities for cyber-criminals. Following are a few steps that companies can take to avoid any risks posed to the exposed vulnerabilities:
Prioritize

all network and data center patches, or partner with independent testers to check the infrastructure thoroughly.
Ensure

all employees install the latest OS patches on their devices, including laptops and mobile devices. Make sure you place a company policy that automates all the future updates.
Remind

employees to update patches or security updates they need to install on a weekly basis.
Utilize

managed network solutions that build a layer of cybersecurity protection, and leverage AI-powered tools to identify and eliminate any threats before they penetrate your network.
Maintain Good Cyber Hygiene
Another solution to ensure security from malicious attackers during COVID-19 is to ensure that employees maintain good cyber hygiene at their home. Whether they use their own devices or connected company devices to a home network, they should consider the following factors:
Home networks should be password protected.

Make sure you implement password best practices company-wide systems and assets. This includes requiring strong passwords, and send reminders to change these passwords frequently.

Use a multi-factor authentication process to applications and employees' devices. There are various solutions available to increase the security of cloud applications.

Consider a managed security solution from an independent software testing company. It can also be used as a backup, to keep the third eye on the security aspects and ensure everything is running smoothly.

Ensure that all employees are using anti-virus software on their computers, mobile devices, etc. and that they have enabled automatic updates and regular scans.
Cyber Security Training
Managers can help their teams be successful with remote work with the help of training and the right tools. Security Magazine has reported that only 22% of organizations that deploy remote workforce during the COVID-19 crisis were provided with proper cybersecurity training. We have jotted down a checklist to help organizations that are training a remote workforce with security at its best. Let's have a look at a few basic things here:
Establish and implement company policies to access business assets and programs only on authorized devices with active anti-virus software.

Implement best practices with respect to email and web behavior such as refraining from downloading attachments, clicking malicious links, or visiting websites without verifying them.

Encourage employees not to use company devices for personal use. And never allow unauthorized persons to access company computers, networks, and systems.

Spread awareness regarding phishing and social engineering attacks. Remind employees of the best practices to avoid them and remain safe.
Encourage the Use of Secure Collaboration Tools
If you have provided your remote working teams access to your software and collaboration tools, they will help in keeping an organization safe. Following are a few best practices that can empower teams to achieve your cybersecurity goals:
Collaborations Tools:

These tools help remote working teams to support their producity and also to eliminate security concerns. Many organizations use Zoom for employees to remain connected virtually with colleagues and team members. Organizations should consider investing in business-level solutions to give visibility and control.

Virtual Private Networks (VPN):

VPN allows workforce to securely access a network from any device. There are a number of VPN providers that an organization can choose from.
Disaster Recovery as a Service:

Where teams are distributed, backups and disaster recovery strategies become critical. We know how important is to have a backup for your business for the coming years. So it is important to decide whether to hire a Disaster Recovery as a Service provider or get a solution that could add an extra security layer in case of an incident.
Email Security:

when working remotely, emails and messaging are the primary mode of communication. There are service providers that offer security solutions to help in identifying attempted hacks before they can reach their inbox.
File-Sharing:

Encourage employees to use a secure application for file-sharing purposes. It will help in keeping information private and secure and also make it easier to eliminate the risk behavior such as downloading unknown files or clicking malicious links.
Conclusion
During the current pandemic situation, the ability to keep your teams working safely is only possible through remote work. Thus, to keep your business moving forward, it is essential to prevent hacking, phishing, and other cybersecurity risks. However, with the right tools and strategies, organizations can ensure their security plans are ready for a remote workforce.