Artificial Intelligence: Adoption Challenges and Human Impacts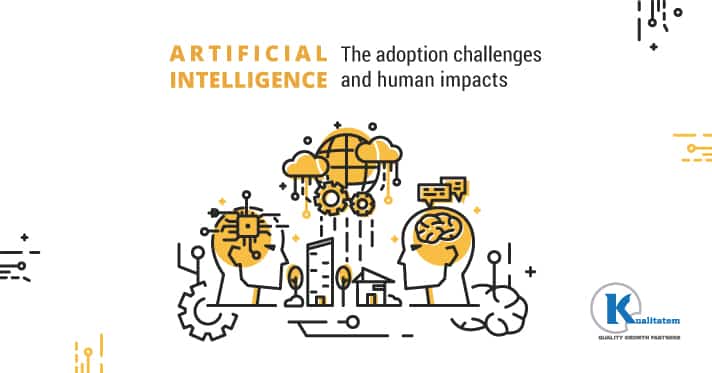 In 2018, we have seen a rise in Machine Learning (ML) and AI (Artificial Intelligence) technologies in 2018. The cognitive computing has been under the spotlight for the past few years and now the companies are already trying out new opportunities to implement the AI power.
Not forgetting what 2016-17 World Quality Report indicates:
"We believe that the most important solution to overcome increasing QA and Testing Challenges will be the emerging introduction of machine-based intelligence."
The ongoing talks suggest that it's nearly time to come into action!
The AI potential is undeniable as it introduces whole new prospects and horizons for different businesses and IT organizations. According to the Spending Guide by International Data Corporation (IDC), worldwide expenditure on AI is likely to reach US $52.2 billion in the year 2021 with CAGR (Compound Annual Growth Rate) of 46.2% over 2016 – 2021.
AI Adoption by Industries
According to the study conducted by Juniper Research, in 2022, the global retailer spending on AI is expected to circulate in the following pattern:
Customer Service & Sentiment Analytics – 54%

AI-based Automated Marketing – 30%

Demand Forecasting – 16%
Furthermore, retailers would spend US $7.3 billion per annum on AI technologies, methodologies, and tools. The chief goal is to enhance the product quality with lesser expenditure.
For user services, AI adoption is still causing confusions to the businesses. According to the PointSource survey, 54% of US customers choose to communicate more with human customer care representatives rather than with the chatbots or AI assistants. Moreover, 80% of consumers would want to talk to a human to get any kind of medical information.
Top user concerns as reported in the survey include:
Privacy/Security:
41% of consumers fear that some hacker would disrupt the privacy/security of their private data, and 32% are afraid their personal information will be transferred or shared with third companies.
Speed:
59% of users get easily frustrated if a chatbot takes more than 5 minutes to provide them the relevant piece of information.
Resistance:
51% percent of consumers feel blocked and confused around chatbots, while 44% ask about the accuracy of the info chatbots address.
In spite of fewer consumers' confidence in AI, the US healthcare sector integrated with AI technologies will expectedly produce $150 billion in funds per year by 2026 (Accenture).
According to the survey provided by MIT Sloan Management Review, surprisingly, out of the 3,000 surveyed companies, less than a quarter out of the total has already incorporated AI technologies, while 23% surveyed participants are growing towards AI adoption. It is astonishing that only 1 in 20 companies has gone for AI adoption. And below 39% of all surveyed companies have an AI strategy to implement. A good number of companies haven't employed AI yet. There are some noteworthy reasons behind the negligence:
Challenges in AI Adoption
High Investments
AI adoption assures the growth of revenue generation, but at one go, it also demands high investments. According to the survey by Vanson Bourne, the bulk of companies expects to have their funds increase two folds in 5 years and three folds in 10 years.
Outdated IT infrastructure
While outdated IT framework is an obstacle to AI adoption for almost 40% of surveyed companies, even though the companies surveyed had $50 million in revenue. The real concern is AI adoption require high-profile strategies, hardware, and software incorporation. AI procedures are perhaps expensive, but they are the source to generate large amounts of data.
Lack of Talent
Lack of right talent is quite a hindrance to AI adoption and it causes a lot of tension in the IT industry.
According to the Vanson Bourne survey, 34% of companies comes across a lack of talent as an obstacle to AI adoption. Therefore, new training styles and equipment should be established to train tech people working in the industry and this too requires investments. For the reason, 62% of the studied companies aim to hire a Chief AI Officer to align and settle down new technologies alongside.
AI Effect on Human
The Vanson Bourne survey notifies that 95% of companies are certain that the AI implementation will change the ways human work by 2030. And 21% of the surveyed companies prospect that AI algorithms would completely replace human professionals in the field.
No, it won't steal your job!
It's not like chatbots or robots will steal your bread and butter. According to a research by Gartner, 1.8 million jobs withdrawal will take place due to AI adoption by 2020. However, 2.3 million upcoming specific jobs will require management of AI maintenance and implementation. So, the AI impact on human won't be adverse, in fact, it will prove to be a good omen for new jobs, with Artificial Intelligence Testing or AI Testing being one of them.