5 Areas to Focus on While Testing A Healthcare App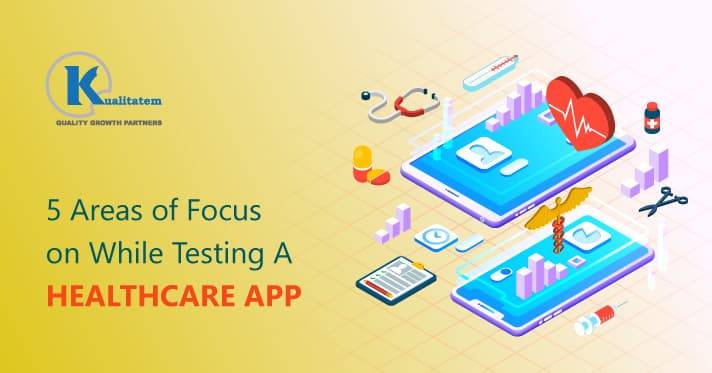 October 26, 2018
Kualitatem
Smartphones have multiplied enormously and largely contributed in developing the mHealth market. Adopting various digital methods of communication between healthcare professionals and consumers is evidently being seen as a growing norm, all because of the convenience it offers.
In the first quarter of 2018, there were 47,911 iOS apps available on the app store. These apps have different functions and both doctors and patients can use them. In fact, it is expected that the healthcare market will reach up to $60 billion US by 2020.
However, given the marvelous change, the industry has witnessed recently, the quality assurance of healthcare app is often overlooked.
However, the more these apps are being developed and used, the more vigilant testers need to become in testing these apps. Listed below are 5 quality assurance aspects in healthcare apps that testers need to look into
1. Data Confidentiality
The pre-requisites of designing and healthcare software testing adhere to access control and strict authorization. It is one of the aspects of testing that requires due attention. However, there are still some parts that a QA sometimes forget. These are:
Departmental boundaries: The protected health information (PHI) should be available for the patient care team.
Report generated data: Restrictions on data availability are strongly implemented in the main EHR (Electronic health record) work process of a software. It is perhaps not executed in the reporting module for drill down reports. Reporting is regularly executed as a part of the data warehouse. According to testers' perspective, if the user does not access the patient's data, the pertinent PHI fields must be concealed.
2. Test data management:
The success of a quality assurance initiative is dependent on the coverage of test situation authentications. This is the result of the availability of diverse test data. This turns out to be more prominent where automation is the main constituent in the general QA plan to safeguard the strength of non-clinical and clinical workflows. Here is a list of six important characteristics of the test management strategy for healthcare IT apps.
It must be production 'like' data.
It must cover 'inconsistent data' or in simple words, the state and type of data in production must be imitated in the test data and should not be cleaned.
iii. Should be able to swiftly revive when required.
To guarantee speedy refresh could be on a sub-category of production data.
Nevertheless, the referential reliability of external links and the data must not be conceded.
The PHI must be organized to confirm the compliance. The data that mirrors its authenticity in production must be the foundation of a current test data management strategy.
3. Usability
Characteristics of usability are frequently fixed prior to reaching QA. However, a QA is not directly responsible for this. IT must be focused on the issues related to the usability, during the QA process. The reason is that IT adoption is the biggest issue in healthcare, unlike other sectors.
Similarly, usability related problems can give rise to clinical issues. A recent example of this is when a patient in UCSF Benioff Children hospital got overdosed by 300%. The main reason was that medication management interface was unsuccessful in preventing the user from committing the mistake.
4. Performance
Social media and e-commerce platforms handle a huge number of transactions in a few seconds across massive geographical boundaries. Whereas, health IT systems serve a small number of users in a definite geographical boundary. Nevertheless, given the implications, performance is still the main aspect in Health IT product.
This is a significant aspect to look into for both traditional desktop-based systems and software as a service system (SaaS), in different contexts. Contributions from performance systems would assist product designers to define areas such as scalability model, archival strategy, local data size and so on.
If m-health app saves data or does any CPU intensive actions, there must an extensive evaluation of its performance.
5. Automation
QA Automation has more significance in healthcare than in any other sector. This is mainly because healthcare is at a high premium, standard in our lives. It is normally put on 'conformance' in a Healthcare IT solution. Therefore, after Health IT solution matures, QA initiatives capitalize in automation to flawlessly continue conformance.