Application Testing for Airline Digital Apps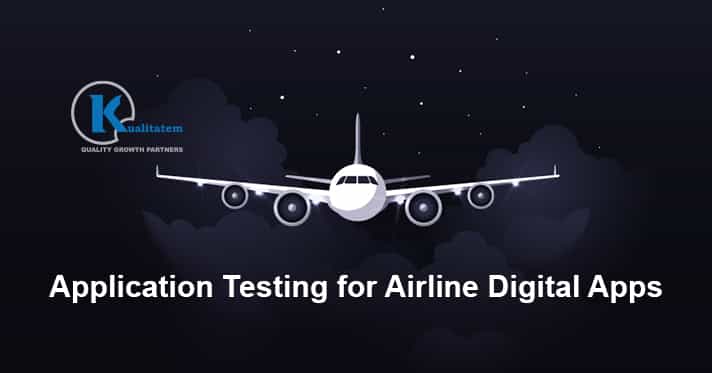 June 10, 2020
Hiba Sulaiman
With digital technology taking over all industries, companies are working towards understanding their customers better and their preferences. The airline industry has gone through immense changes over the past few years. It has gone through major transformations while catering to security issues, technological updates, and software glitches. Due to which quality assurance has become a top priority for these companies. To overcome these problems, airline companies place a robust quality testing approach to achieve quality software solutions.
For instance, in the aviation industry, companies are introducing mobile applications to provide improved services to their passengers. Technology has created revolutionary impacts on various businesses, and software applications help achieve immediate and desired results. Thus, it is important to implement strong software testing strategies. For this purpose, the aviation companies hire a mobile application testing company to understand and deliver quality customer-centric apps.
Software Testing and the Aviation Industry
As customer expectations and business environments evolve, it becomes extremely important for airlines to focus on quality assurance. Customers expect high performing applications and with the help of QA processes, airlines can deliver excellent services, business flexibility, and cost-effective solutions to their customers. Airlines have a huge transactional customer database, that provides insights to understanding customer priorities. There is a wide range of data storage options that are improving more than ever and can store and analyze an unlimited amount of customer data. Airlines can use this data to create relevant offers by using the various factors that they have gathered from insights into the passengers' travel information.
There are three important factors to consider when devising a testing strategy for airlines:
Testing business rules implementation

Testing system integration

Non-functional testing
Testing Business Rules Implementation
Airlines require customizing business and pricing rules. They need to implement these customers accurately as a part of the online booking process. There are various factors that contribute to test-case designs such as amount limit, infant tax calculation, insurance policy, etc. Thus, testers need to have domain knowledge in order to test the implementation of these business rules. They need to consider these rules within the booking process to provide quality services. Application testing for airlines includes adherence to industry regulations and the ease of use for travelers. It should have a robust test case design so that testers can use effective techniques depending on user scenarios and app functionality.
Systems Integration Testing
Airlines use the Global Distribution System (GDS) or Computer Reservation System (CRS) or Internet Booking Engine (IBE) integrated with a payment gateway to provide their customers with travel booking services. All these components have evolved in complexity and their integration becomes crucial. Testers need to understand these requirements clearly. If they fail to do so, it may result in a failed ticket transaction or the user interface not rendering correctly.
Non-Functional Testing
The way users are accessing software apps is evolving. These apps are no longer restricted to browsers or desktop, but they use smartphones with varying sizes to perform different transactions. It is crucial to ensure that an application is easy-to-use and its aesthetics meet customer expectations to stay ahead of their competitors.
Responsive Web Designs
QA teams use responsive web designs to build attractive web applications. They make a website appear in the same outlay on all devices, whether it is accessed through a desktop, tablet, or phone. They use CSS and HTML to resize, shrink, enlarge, or move content to make it load effectively on any screen.
With the help of responsive design, the following benefits can be achieved:
It provides a similar user experience across different digital platforms

It provides a better interaction experience to the user with easy navigation

Apps work perfectly fine on any new OS or platform release
It is crucial for airlines to ensure that their applications are responsive. It is not possible to test these apps exhaustively via manual testing, so teams use a responsive automation framework that can that apply checks on an application for any possible failures.
These digital trends make it important for the airline industry to utilize technology. As the digital wave hits across various industry verticals, the airline industry also needs to keep pace and adopt best practices for achieving their desired results. When airlines partner with a software testing company, they can help improve their service quality and also strengthen their brand image. Software testing becomes an integral part to ensure smooth operations of all systems and networks.
Conclusion
The airline industry has been struggling for a while with low-profit margins. However, due to technological advancements and changing customer preferences, airlines need to gear up their testing efforts. They can only grow if they hire reliable testing companies for their apps to ensure quality services to travelers. When testing these apps it is important to test the critical functions including flight booking services, flight operations, maintenance, airport operations, etc. In order to test these apps, it is important to use the best industry practices, testing frameworks, processes, and tools. QA teams should ensure that functional and non-functional aspects of airline digital apps are thoroughly tested. This can help in improving customer satisfaction, cutting down costs, and overall business performance.