Application and Challenges of Internet of Things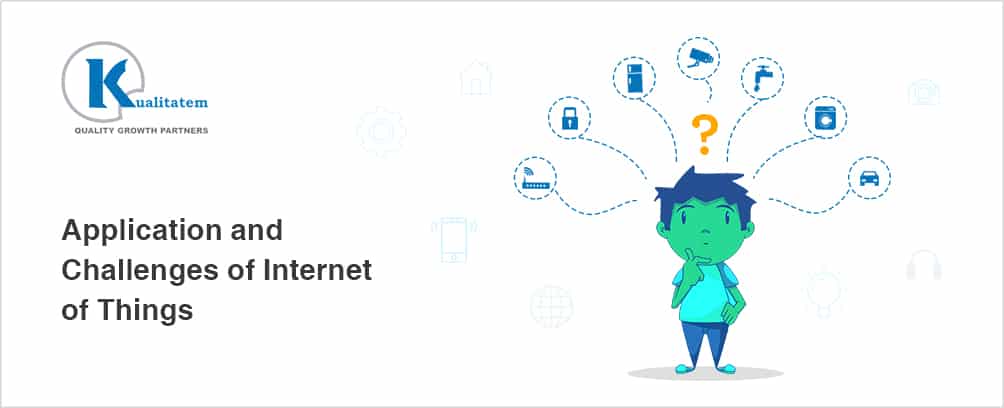 The Internet of things (IoT) changes with time materially and conceptually, focusing mainly on enabling technologies, applications and network protocols. It has been tried in this article to identify the most important areas and applications in which IoT is implemented.
---
The internet of things (IoT) is a combination of a number of technologies using intelligent interfaces to communicate via internet connecting physical objects. Mainly, IoT is a direct integration between the computer system and the physical world which enhances its efficiency, performance, and brings greater economic benefits. It is the technology used mostly in smart cars, smart food departmental stores and logistics department etc. The IoT is evolving day by day and it will reach up to billions of objects in the coming years.
Following are the IoT details:
Internet Revolution

Since the beginning of Internet of Boffins 1969 to 1995
Internet of Geeks 1995-2000
Internet of Masses 2000-2007
Mobile Internet 2007-2011
Internet of Things 2012 and Beyond

Impact of Business

In different domains of working area the internet has evolved and it now has a greater impact on education, business, communication, entertainment, medicine & healthcare sectors.

Perspective of IoT Acceleration

Wireless connectivity
Application development
Cloud-based software/infrastructure
Sensor advancement
Microcontroller performance

Need of Internet of Things

Implement active control on industries. Highly resource efficient, cost effective and saves quite a lot of energy on things that we use in our daily lives
Increase and enhance the ratio of resource utilization
Create and maintain better relationship with human and natural objects (pollution & disaster avoidance)
Integration between cyber system (electronic, software, network connectivity) and physical objects (devices, vehicles, building and other items)
Provide universal transportation and internet working
IoT used as Integrator between technologies
Business Perspective of IoT

IoT brings and adds value to products and services
Application of IoT
The IoT applications are used in different domains of daily life, industrial and other environmental places.
Industrial

Industry uses smart meters to record consumption of electricity and store information into back up storage.
In manufacturing control process, the IoT has the prospective to improve the overall visibility in the manufacturing process.
Industries have IoT climate control devices through which they can automatically adjust the temperature according to the climate outside e.g. house, factory, industry, cars etc.

Automotive

IoT works for parking by collecting and spreading real time information and communicating about the parking slots available. So the driver can find unoccupied space quickly.
The IoT plays an active role in Traffic flow by collecting information from different resources such as traffic cameras, vehicles GPS, sensors on the road etc. The data derived from these sources is analyzed to understand the traffic pattern and enables them to find new ways to optimize and run the traffic flow more smoothly
The vehicle antitheft tracking system is developed on the base of IoT. That system is controlled by a well-known technology called RFID module. If the vehicle is stolen then the sensors report back to its owner with current location via communication through devices.

Environmental

Data is collected by the sensors technology that integrates with IoT. With the help of weather prediction feature, the weather conditions can be forecasted earlier. Let's say you are driving on the road and a Smart IoT system notifies you that due to bad weather conditions the road ahead is slippery. This will help you in changing your route accordingly and timely.

Agriculture

Agriculture IoT helps in increasing productivity of crops by managing different activities such as – water management for crops, in which proper water supply is mandatory for agriculture otherwise it causes extensive damage to crops. Agriculture IoT integrates with sensors to manage requirement and supply of water for crops. IoT helps agriculture to reduce water wastage and regulate water supply.
IoT ensures the timely communication of real time data to agricultural processes like harvesting, weather forecast and soil quality etc. Through this the farmer has plenty of information before harvesting the crops in advance and he can plan activities accordingly.

Consumer

IoT Smart homes are found on the basis of applications that allow the owner to monitor a house built with lots of applications such as access control, monitoring, security, lighting etc. These devices are interconnected and integrated with applications and artificial intelligence.

Retail

IoT Inventory control system is used to decrease the inventory costs. Once an item is marked as sold then the inventory management system first gets updated and notifies the time of restocking their inventory. It helps the suppliers and inventory management to keep the supplies updated more efficiently.

Medical

IoT Wearable devices like smart watches that record your biometrics reading notify you regarding any positive sign of illness. Tracking body temperature through a wearable device which will provide an early indication of flu is on its way too.
The IoT implanted devices describe multiple distributed systems in order to connect to the internet. It provides greater advantages to the patients and medical institutions.
In IoT telehealth services, the healthcare system integrates wirelessly with communicating devices and system apps that connect the health providers and patients to diagnose diseases, monitor blood pressure, and record patient's medical health history and provide consultation in a remote location.

Military

To improve the efficiency and accuracy in transmission of actuating and sensing signals in IoT, the IoT ensures the system's stability and through resources allocation method assigns network bandwidth and prioritizes assigning frequency signal strength to users.
Threat analysis and troop monitoring activities are also performed using IoT.

Management

IoT for waste management is rapidly growing, IoT companies for waste management system are developing a system which in turn develops tools for labor to reduce its stress and improve its efficiency. These companies are developing a system which can monitor trash collection method for the improvement of overall waste management system. They have developed a system in which sensor enabled trash bins are placed in public places. Such trash bins measure the waste level and compact trash to reduce the overflow. These sensors send data to main center authorities who take action by enhancing the efficiency and planning about routers from where the trash pickup is needed.
Challenges of IoT
Some of the challenges are as follows:
Insufficient security for User data and their protection
Technology standard is non-consistent and still remains fragmented on most areas
For compressive solution more value needs to be extracted from application rather than only focusing on silicon based technology
Rights for Intellectual property
Cybercrime
Technical and boundary limitation in some areas of technology
Future of IoT
IoT will evolve in various fields of technology and sectors that include:
Intelligent home, Government, Enterprise, Shopping centers and market, Healthcare and transportation. Daily life, traffic issues, logistics, retailing and resource and power control.
Conclusion
The internet of things is a new and developing technology. In the era of evolution, IoT is definitely going to set a new standard.