Accelerate Digital Transformation With Software Testing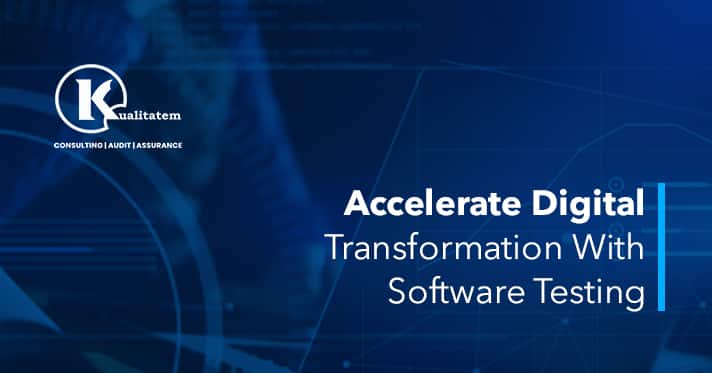 March 25, 2020
Hiba Sulaiman
Almost two decades back, the Agile manifesto came into existence, changing the IT industry. The agile methodology focused on cutting down the delivery time and worked as the primary measure of progress by following the shift-left approach. While the Software Development Life Cycle (SDLC) revolutionized with the introduction of Agile solutions, followed the birth of DevOps. Both methodologies follow the same approach, which means increased collaboration, shorter feedback cycles, and broken silos. The evolving IT ecosystem is expected to support innovation and frequent deployment of releases in order to meet customer expectations and demands. Enterprises go through a digital transformation process, to fill these demands, which goes beyond just the technological disruption. An independent software testing company helps businesses during their digital transformation process.
The Current Need For Digital Transformation
According to Forrester, 'Digital transformation is not just about technology, it is about reimagining the company'. Thus, enterprises are following customer-oriented approaches to make strategic modifications to adopt digital transformation, which requires sound planning and a solid foundation. Digital transformation can help enterprises achieve cost-effectiveness and faster releases. Both Agile and DevOps strategies are important for successful digital transformation.
Disruptions Caused By Digital Changes
While traditional businesses are constantly investing in digital technologies, so are the institutions in the Banking and Financial Services Industry (BSFI). Besides, cultural changes, banking officials are used to traditional banking processes, which cannot be changed overnight. The cultural shift needs time, and so do the employees. Not only are the bankers affected by this change, but their customers as well. So when banks leverage their digital efforts to introduce paperless or branchless banking services, they do face some problems. Due to a traditional mindset, bankers face problems in adopting the use of digital applications. They did not have proper knowledge about using the apps and answering customer queries with the help of digital solutions. Also, due to critical data, banks cannot rely on just any software tester. They need a reliable independent software testing company so that their digital switchover is smooth.
Inherent Challenges Banks Face While Going Digital
When going digital, banks usually lack testing devices and other important tools in a test environment. Typically, in-house teams take the manual testing approach, which is time-consuming and costly. Due to the absence of a QA team and process, digital transformation can be quite stressful. As the QA process is the first step in ascertaining all customer requirements, it is important to have a proper QA process in the software testing process. In addition, QA teams also perform software testing to identify issues in acquiring test data and its management, due to privacy issues and a lack of the required tools.
The Impact Of Cultural Change
This resistance to change is not only triggered by the bankers but their customers as well. They are not willing to change their traditional ways of operating their bank accounts, which can be a big hurdle in achieving success. Thus, cultivating a culture of change throughout the hierarchy is necessary.
Agile and DevOps Solutions To Aid Digitalization
With the Agile and DevOps processes being in the spotlight, they are backed by continuous testing approaches. Enterprises can follow the following three approaches to optimize business processes and set the stage for quality assurance. These three approaches are:
Work should flow in a single direction

Create, shorten and fill-in any feedback loops

Practice experimentation – to learn from mistakes and achieve success in future
I hope these three factors hold true for both IT and business processes. They help in attaining customer attention and value through the integration of quality products while maintaining speed and efficiency.
Introducing TCoE For Quality Assurance
In a digitally-growing world, consumer expectations have never been this high. An independent
software testing company can help banks in various ways to achieve success in their digitalization efforts. Independent testers propose, introduce, and implement a testing center of excellence (TCoE) for all banking digital products, including their websites and applications. These testing teams also conduct QA assessments of all existing applications to make them user-friendly and assure that they are thoroughly tested for quality assurance. It is not easy for banks and financial institutions to move from conventional banking processes to using digital platforms, yet QA teams can help in the adoption of Agile methodologies.
Making The Digital Switchover Process Easier
Banks have the vision to become the best at providing digital services to compete in the international banks by implementing the digital transformation process. Banks are continually investing in digital products to move to branchless and paperless banking, to keep pace with the emerging market trends. Banks introduce Agile methodology in their business processes to step up their game and survive in the current competition. Banks also invest their time and effort in finding out how they can make this change less disrupting for the current processes.
Conclusion
Enterprises aiming to achieve digital transformation must have their customers at the center of each decision, step, and strategy. Keeping customers at the forefront of their business will allow enterprises to achieve success and their vision.
Similar to that of a DevOps environment, digitalization requires a shift in both culture and processes. A company-wide cultural change is the first step to achieving success. Right from CIOs, managers to QA testers and other staff members, each individual is affected. They need to conduct a critical assessment of how things have changed so far and how they will be done in the future. Understanding this difference between these factors will help firms build a strategy to handle resistance from individuals involved in the shifting process.
Since businesses are moving more and more to the cloud, open-source tools, and APIs, it is also necessary to fill these gaps by resources who can successfully achieve such transformations. When it comes to digital switch overs, they are never easy, especially in the BFSI – since they not only require technological yet mindset changes.