Quick Guide to Performance Testing for Banking Applications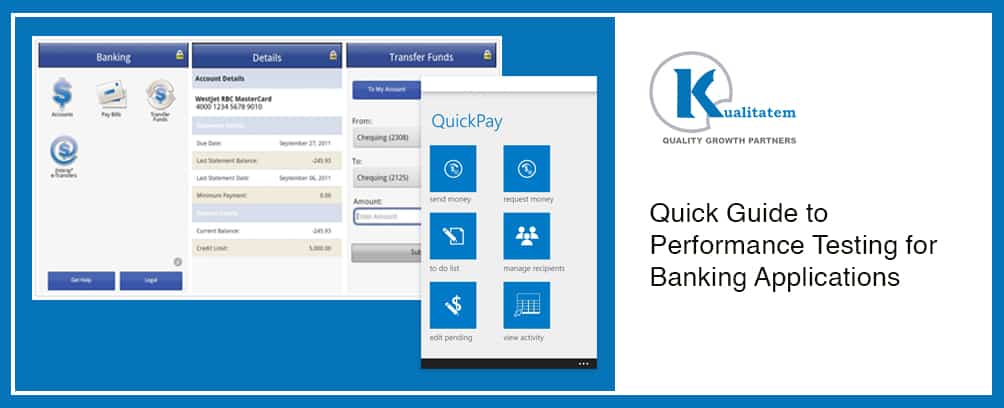 November 21, 2014
Kualitatem

In today's software industry, banking applications are considered as one of the most complicated enterprise applications. Performances testing for banking applications is a very complex and critical exercise. Due to the fact that Banking Applications contain complex transactions, Therefore Database load testing is as important as functional testing.
Let us take a quick look at what makes Banking Applications so challenging to test and how we can recommend a better way of testing them.
Banking applications are directly related to a customer's account that holds maximum records at a time. These applications can be used by different users for a variety of different purposes. Reliability and scalability of any Banking application are more desirable because they deal with critical monetary transactions. Most significantly , Performance testing of legacy banking applications is a challenging and complex task to perform.
Issues with Legacy Banking Applications:
Most of the time the latest performance testing tools do not support the old technology being used in the bank's legacy applications. So these applications need to be upgraded to the latest technology to get maximum support for this exercise. Legacy banking applications do not support the maximum no. of users to perform business transactions at the same time. Legacy banking applications are also less responsive and reliable to support their transactions processing less time to complete.
Latest performance testing tools based on the latest technology architecture do not entirely or partially support the legacy banking business transactions. Sometimes tools do not record the business process the first time. This would skip the important business transaction during recording. This is a very critical issue, if you miss any single step or process during business scenario recording, you might not be able to reflect the exact business load on the server and all your load testing exercise would be wasted. So in the legacy application, we have to make sure that we have covered each and every business process during recording.
The performance test consultants have to record the business processes multiple times and need to verify the recorded script at the end so this is a time consuming process, but for legacy applications we have perform this task repeatedly until it records all the processes.
Latest performance testing tools with legacy banking applications failed to fulfill any of these "Roll Back" and "Commit" Actions. In bank legacy applications many transactions consist of rollback and commit actions. These commit and roll back actions make sure the status of the transactions made by different users. If all the processes are completed successfully, then the commit action confirms the transaction at the end, otherwise it rolls back all the process and return the fail status. These issues are very critical and all these issues should be handled carefully, otherwise without these concepts load testing would be less effective.
Recommended Tool For Handling Legacy Applications:
There are some tools in the market to handle the legacy banking applications. The main challenge in the load testing exercise of legacy business applications is to make the scripts work according to the real time business scenario execution. IBM® Rational® Integration Tester is a powerful tool that supports these kinds of legacy banking applications. Rational Integration Tester supports all banking business transactions concepts, including (rollbacks, commits) actions.
RIT Capabilities:
RIT fully supports latest/legacy banking applications, starts from recording business scenarios to load generation and performance testing processes. Multiple agents integrated with RIT generates distributed load on application under test. These agents are flexible and can be used according to different performance testing requirements.
Fig: RIT recording Business Process
RIT record all the business transaction queries in a sequence executed in the actual business process. All recorded queries (Select statements, Update queries, Table Locking Statement, Insert, and Delete) are moved to "Test Factory" for performance test execution.
RIT is an efficient performance testing tool to resolve "Commit", "Roll Back" transations actions in legacy banking applications. RIT allows us to bring all the recorded queries together under a single SQL command. This would make a whole bunch of business process queries under Single SQL Command. During performance testing processes this technique would support "Roll Back" and "Commit" actions at the end of each transaction which determine the status of transactions (Fail or Pass).
Fig: Recorded SQL Queries under Single SQL Command
At the end of each performance test RIT generates a performance test summary report.
Fig: Performance Test Summary Report
RIT generates reports and draws various performance graphs showing all the iterations and transactions along their respective time durations for each business scenario for detailed analysis.
Have you ever been in a situation where you had to wrap your head around testing a difficult banking or financial application ?
Please feel free to let us know !
We hope you enjoyed reading our insights , please feel free to explore how our Performance Testing Services can help by delivering a perfect final product that is free of flaws and errors.