Apple's Response to Google Accusing iPhone Security Issues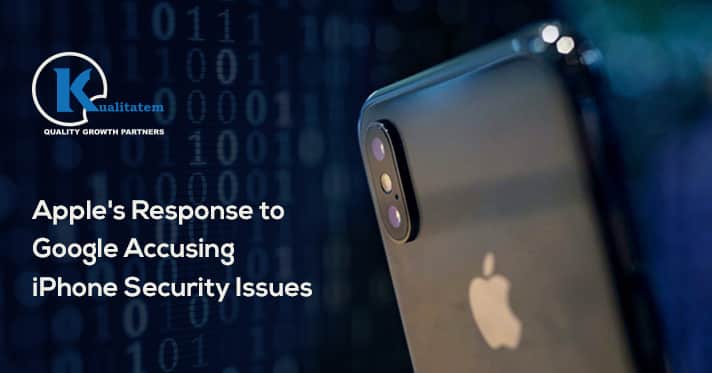 September 26, 2019
Hiba Sulaiman
Google highlights Apple's negligence with respect to its security vulnerabilities
On the same day Apple revealed its latest iPhone event date, Google's Project Zero stated it had discovered security vulnerabilities in iOS. Project Zero is a team of security analysts that provide security testing services to find pitfalls in security or any hackable bugs. It reported a security flaw in iOS where users' data was at risk if they visited a malicious website. As a result, a monitoring implant would be installed into the smartphone. Since Apple is a tech giant and states its concerns about security and privacy, users did not expect security exploitation this serious! Tech experts and iPhone users were eagerly waiting for a word on this issue in their annual event – which they completely pushed back. This raises strong suspicions as to why Apple hasn't said a word about these vulnerabilities that were suspected to exist in iOS 10 – iOS 12.
Apple's personal data protection policy states: 'What runs on your iPhone, stays on your iPhone' which is said to be compromised.
Two weeks earlier, Apple's annual event was packed with comprehensive news about launching the latest iPhones and its features. With iPhone 11, iPad and Apple Watch Series 5 inline – Apple leaves behind an important matter… An interesting thing that has been troubling its customers since the announcements are something Apple has almost ignored in their annual conference.
More about Apple's security concerns
Getting into details about the matter, Apple completely refused Google of being accused of mass exploitation to monitor private activities of real-time users. Apple claimed that it had already reported this bug and was working on fixing the issue when Google highlighted it. It took the tech giant 10 days to fix the issue. They also refused the time duration was only 2 months, whereas Google claimed it affected iPhone users for almost a period of 2 years.
Project Zero posts technical research designed to understand security vulnerabilities. It states in-depth research that focuses on the technical aspects of these vulnerabilities. According to researchers, these security issues in iOS were exploited to hack iPhones to be targeted at Uyghur Muslims. They suspected that the broad-scale attack was unidentified for years. Apple completely refused this and criticized how Google exaggerated the issue.
What Does the Future Hold for Apple?
Moving over to Apple's responsibility as an industry leader, customers were expecting more at the annual event. At least they owe an explanation or clarity to the users about their security concerns. How did even Apple manage to remain completely silent over a hot debate about their vulnerabilities? Has the team deliberately skipped the topic? Besides highly-priced shiny new iPhones, could this be an underlying reason for iPhone sales dropping down in the near future? – That is a food for thought for Apple!