Android 7.0 Nougat – What to Expect from the New OS?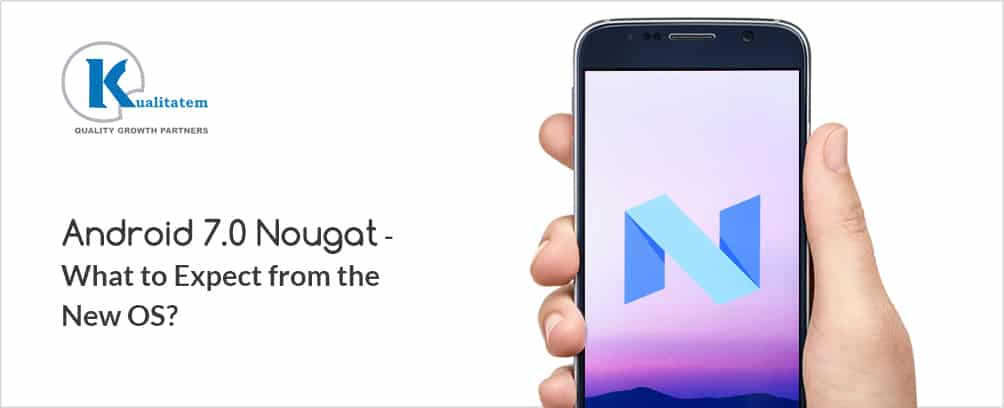 August 26, 2016
Kualitatem
The delay is no more and Android N has finally got his name "Android Nougat".
Nougat is merely a confectionery item. It is sweet in taste made with sugar and it includes some dry fruits like almonds, walnuts, pistachios as well as hazelnuts. So, Google just sticks to his naming algorithm which is all about naming android versions after some eatables items i.e. from Android 1.6 Donut to Android 7.0 Nougat all went in the same way.
Some major changes which will be discussed in this session are as follows:
Multitasking
Google comes up with a total different frame of mind by enabling Split screen feature into this coming android. This feature works in the same way as it works in Apple iOS 9 and above. So what you do in multitasking is that you have more control on your phone. You simply switch between two applications like watching YouTube in upper portion of the screen and doing text to someone in the lower area of your screen. For this feature Google has introduced another facilitation of the button that is called QUICK BUTTON. To put it simply we can say that the quick button functions just like the ALT+TAB function in Windows.
Notification Panel
The notification panel has been redesigned and it now has the features of Group by apps as well as the same state reply service. As far as the group by notifications are concerned it should be kept in mind that it is nothing more than just an update that makes group of the notifications which are from the same side. Like you get a group of Emails and then Facebook and much more like that.
So the same state reply update tends the user to reply from the notification bar and there is no need to open the messages and then doing the job. Just hit the reply button; onscreen reply field would be available for you. Now type the text and you are all done.
Night Mode
Night Mode comes up with some straight forward functionality. It is basically the change in UI of the whole system. It has a feature of auto-ON with respect to time and it comprises of the following set of features:
Dark Theme
Yellow Tinted Screen
Adjustments Available For Screen HUE
Introducing Daydream
So the Cardboard has its successor in the form of daydream. Daydream allows you to share all of the content of virtual reality and for this you will definitely need a Daydream certified phone. Google has not yet shown its proper functionality. But brands like Samsung, HTC, LG and Huawei are already on board as their devices are compatible with it.
Some Performance Up gradations
The concept of Vulken is really remarkable as it allows the developer to develop games with more frame rate and it provides outstanding high end detailed results in graphics. With JIT compiler the devices are now tend to be faster in installing the applications. The spokesman of Google said that they are now 75% faster when it comes to installing an application.
So, these are the major changes that one can expect from Android N. Hoping that this update tends to roll out in coming days.