7 Ways To Enhance Customer Experience On Mobile Apps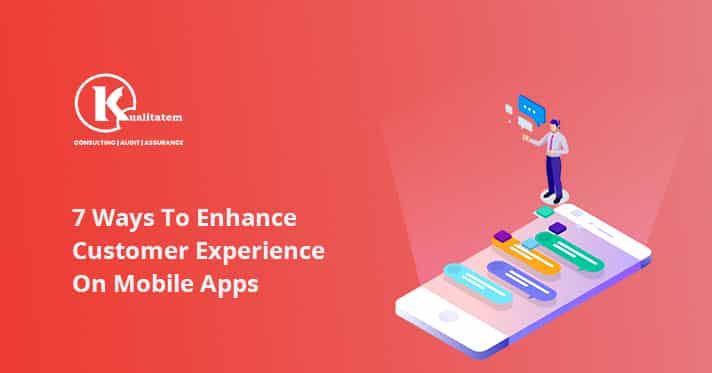 July 6, 2020
Hiba Sulaiman
Customer experience (CX) is one of the most popular terms used in the software industry. By the end of 2020, the number of smartphone users is expected to hit 3.5 billion around the globe. With this tremendous increase in the number of users, businesses are looking for ways to release more efficient and quality mobile apps. We know the power of customers in this digital era, making it extremely challenging for enterprises to build a positive brand image which can only be achieved by improving customer experience. It is not just imperative for enterprises to learn about the true meaning of customer experience but also to grab end-user attention by ensuring rigorous app testing. This is why enterprises confide in a mobile application testing company to set a strategy that helps them achieve success. Let us first understand what customer experience means:
Customer Experience (CX)
Customer experience is defined by all the interactions and experiences customers have with a business throughout the entire customer journey. From the first contact that a customer makes with a business until reaching out to the sales team and becoming a customer, it is a complete relationship. In order to understand the customer experience, it is critical to learn about the customer journey by applying the right metrics. 
The Power of Mobile App Users 
An average mobile user spends more than 3 hours each day interacting via smartphone making mobile apps an integral part of our lives. And according to research, more than 50% of users are more likely to abandon apps that have a poor experience. They expect a quick response from mobile apps and the only common thing about enterprises that rely on mobile apps is that they are expected to deliver a top-notch user experience.  We can see major companies suffering losses due to faults in their user experience design.  
We have listed seven ways to enhance customer experience on mobile apps:
1. Design to Support Different Platforms 
Customers highly engage with their smartphones, so the operating system (OS) design plays an important role here. Firms need to ensure that their apps function smoothly on all OS that has different standards and conventions. Any mobile app that fails at syncing with the platforms can result in users abandoning an app. 77% of organizations lose their users within the first three days of its launch. Thus, it is clear how important it is to ensure that apps work efficiently with different platforms to ensure a good customer experience. 
2. Make An Impression
Mobile interactions between customers and businesses are based on different objectives. In order to leave a lasting first impression, it is important to make the first interaction between a user and an app as seamless as possible. Following tips can be helpful:
Offer a quick interface

Place only important information on the main screen 

Make on-boarding an easy process 

Include interesting design elements 
3. Understand the Purpose of the App
A common mistake that businesses make when it comes to maximizing customer experiences is their dependence on design tools. It is important to consider the interaction contexts first to deliver a good customer experience. 
4. Ensure An Interactive Experience 
When a customer interacts with your business mobile app, a sense of control enhances his quality of experience. The reason why mobile users fall in love with certain brands is the way they can interact with their fav brand's mobile app. One of the ways to enhance user experience is by making their interactions interesting. Improving interactions helps in capturing customer attention and also ensures user engagement. A mobile application testing company ensures that its team develops interfaces based on anticipated user behaviors. A good communication process is critical to ensure the delivery of great customer experiences on mobile apps. 
5. Navigation 
We know that the interactions via mobile apps are minimal as compared to a laptop screen. Although the content and services a business offers remain the same. Yet, navigation can be a huge problem that can hamper mobile app user experiences. In order to avoid this and deliver better customer experience, mobile app developers should ensure there is a search box at all times during a mobile interaction. Its positioning may depend on the platform for which a mobile app is developed but the navigation should help improve user experience. A search button should ideally provide the following:
 Account for spelling issues to ensure users may find what they are looking for 

 Auto-fill in and suggestions 
Filters can also be helpful and allow customers to shortlist the content of their interest. By including search and filter options, users can be provided with greater control especially when they have huge amounts of apps to interact with. 
6. Accessibility 
Ever imagined the frustration a user feels when he accidentally taps 'cancel' where he actually intends to save the information. It is crucial to understand the key accessibility factors that are relevant to the users you wish to engage via mobile apps. Most of the time users use their thumb to tap on mobile screens. For those who use mobile with two hands, tend to use their finger for tapping. Thus, mobile app developers should understand the accessibility issues that these two styles can create, and ensure that the buttons are in these areas.
7. Rigorous Software Testing 
It is a very different thing to assume what customers expect from a brand and a completely different thing to know what users want when interacting with a mobile app. Mobile user testing helps in optimizing mobile apps for quality customer experience. Make sure that you utilize user analytics and A/B testing to ensure that you identify key areas for a successful app launch. Make sure that you can answer questions like what are the functionalities that can make your app more valuable? Is the user sign up form easy to fill-in?
Customer expectations are higher as the world becomes more digital. Thus, businesses need to step up their game with the right mobile app testing strategy. The above tips can help with improving the customer experience for mobile app users.