5 Things To Look For While Choosing An Antivirus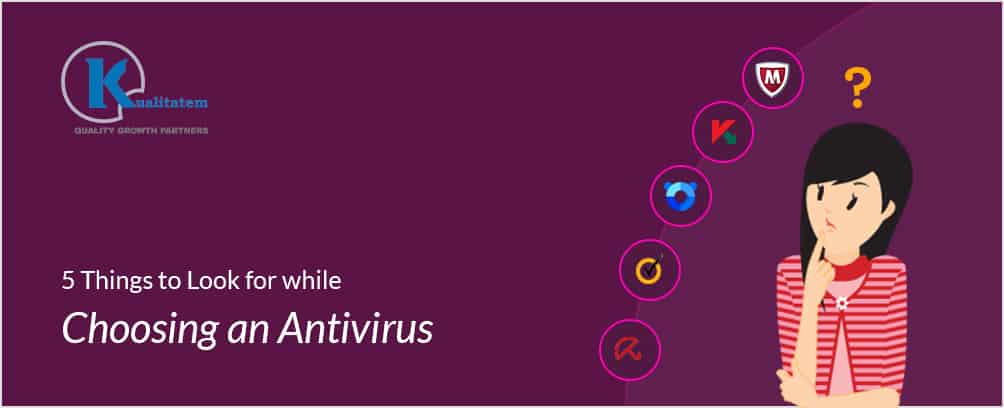 March 31, 2017
Kualitatem
Nowadays antivirus software has become a necessity for technology users. Electronic devices like computers and mobiles need protection against the dark world of technology. May it be file scanning, networking scanning or protection against an adversary, an antivirus should do all to protect the concerned entity. But most of the technology users find it very difficult to have an antivirus which possesses all the needed attributes.
The most common question asked about antivirus is "Why do we need an antivirus". The answer to this question lies in a quote by Kevin David Mitnick, also known as Mr. Condor
For the average home-user, antivirus software is a must.
When you compare an average home-user with a highly skilled tech guy, it's a definite conclusion that the tech guy will need more protection, but the average home-users should also have a protective wall installed on their devices because they are at a constant risk of getting compromised. So why would anyone want his/her devices less protective?
In order to select an antivirus, one should know what he's looking for. Since we all have different devices with different operating systems running on them. We need to classify these software on the basis of their compatibility with our systems. Once you're sure about what type of antivirus you want for your device, you should begin the searching process. But before searching it's highly recommended to look for the following features:
Antivirus Updates
Since the dark world is continuously evolving day by day so it is imperative that any antivirus you're selecting should provide regular updates in order to prepare itself against the evolved threats to your devices. Devices can be infected in different ways e.g. internet traffic, external devices, installing applications from unknown sources etc. So it should be ready for dealing with any kind of threats.
Firewalls
Antivirus should be able to set up constraints for different applications installed on the devices. As these different applications are communicating over the network, the antivirus firewall should be able to detect and take preventive measures against any sort of suspicious traffic.
Performance
Viruses can't only exploit the device but can also slow down its performance. Antivirus software should be able to perform a quick scan on any particular file. Meaning it shouldn't take much time in scanning and slowing down your device performance. It should also be able to increase your system's performance by suggesting removing any unnecessary data or files.
Protection
Antivirus should be able to protect the devices from any of the possible backdoors that can be created via any means. It's not only about the device security but also about data integrity. Most of the times users give permissions to installed applications creating a loophole for anyone to exploit it and the antivirus should be able to counter such attacks.
Quick Virus Detection
Antivirus software should contain real time scan process. Let's say if we have some incoming data traffic or any connected peripherals, then it should be able to do quick scan as soon as the traffic is received or any portable device i.e. USB etc. is connected with your device because we don't know where the data or internet traffic is coming from. So, instead of taking any chances; the antivirus software should be able to do a quick scan when any external data or gadget makes contact with users' devices.
For a newbie in tech, antivirus selection becomes a nightmare. It is also a fact that selecting a good antivirus software doesn't make your computer secure if you're not willing to spend some cash. And this is why most of the newbies are hesitant in buying an antivirus with all of its features. One of the main reasons behind this hesitancy is the use of free trial versions of antivirus software which are available for few months and that too with limited features. One can't get quality and quantity at the same time without spending some cash on it. It can be summed up with this Chinese quote:
It takes two hands to clap.
If you're willing to protect your device then spend some bills or be ready for the consequences. Since security or protection is our priority so you can't protect your devices using these less protective solutions.
It can be concluded that protection against current and future threats should be catered in such a way that no such thing like data or devices are compromised and in order to do so we need to think of a strategy which is more compatible with our devices. Moreover, we need to evolve ourselves with technology as Glenn Turn said:
As every new breed of virus is conceived, created and released into the wild, another small change is made to the anti-virus software to combat the new threat.