10 Reasons Why You Should Have A Mobile App for your E-commerce Store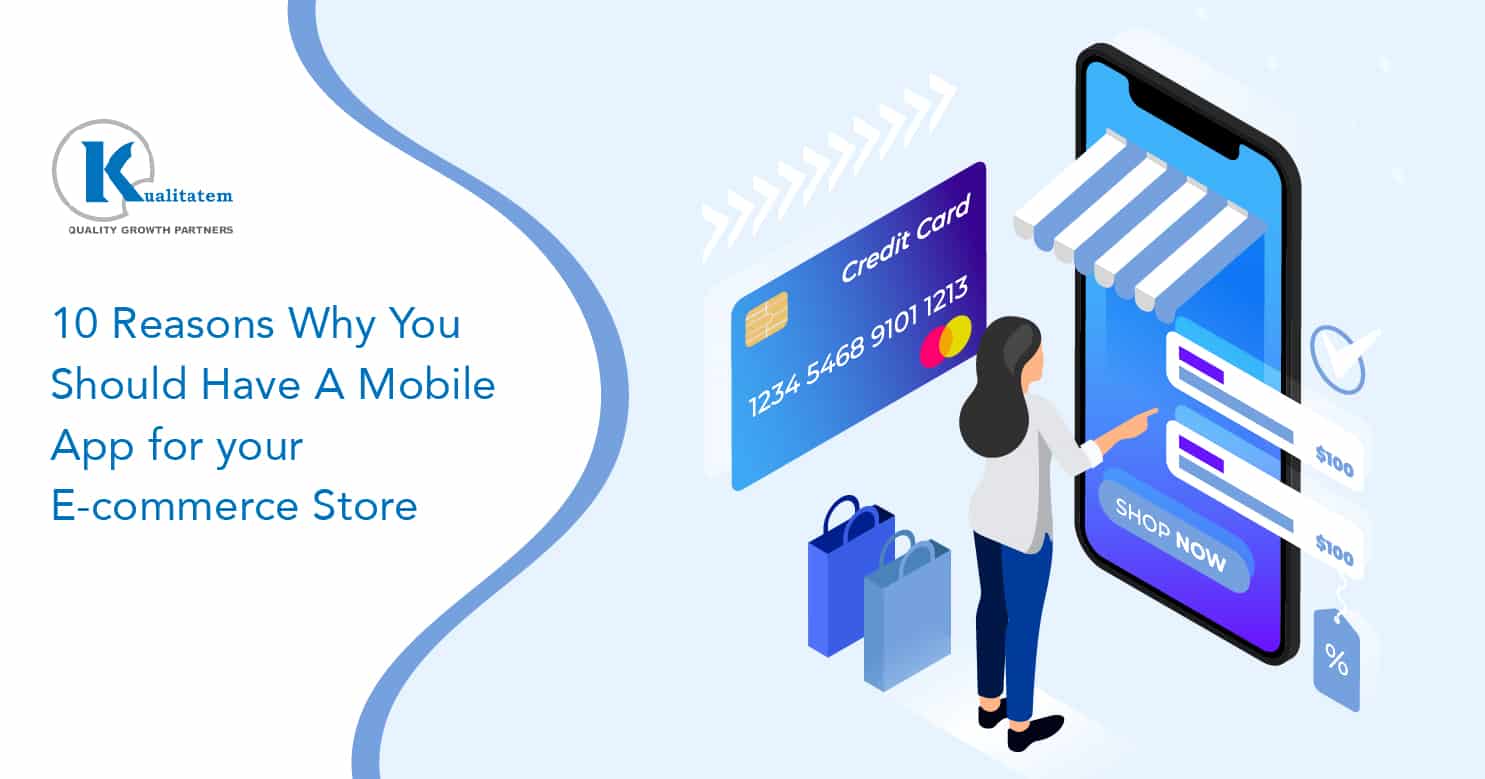 November 18, 2020
Hiba Sulaiman
According to Statistica, the total number of mobile users globally is expected to increase by up to 3.8 billion by 2021. More than 80% of people are expected to perform mobile eCommerce transactions each year. Despite these increasing trends, we can still see many eCommerce store owners have still not provided a mobile app. Most of them still rely on mobile responsive sites. During holiday seasons, we observe transactions being made from smartphones. Since statistics have proved that smartphone users are more likely to shop from an online store via mobile devices, it would be a mistake to rely on mobile responsive sites only. When users experience slight inconvenience in browsing, it affects their shopping experience and they ultimately abandon the app for good. This is where an eCommerce mobile app can offer a seamless shopping experience that would draw customer attention. All these factors emphasize how important it is to invest in the right mobile app testing company to ensure a quality user experience.
We have listed below ten reasons why an eCommerce store should have a mobile application:
Draw the Attention of Smartphone-based Shoppers
Ecommerce stores with mobile applications have reported that more than 70% of their site's traffic comes from mobile devices and more than 90% of internet searched are performed via mobile devices. This opens doors of opportunities for eCommerce stores to invest in mobile apps. A seamless mobile app can help in drawing the attention of the customer base.
Make A Difference
Small businesses have still not moved their apps to mobile platforms. But there are a plethora of companies dealing in e-trading and mobile apps can help them gain a competitive edge. This is a good approach to make a difference in the market and remain ahead of the competition. We know developing a mobile application for an eCommerce store isn't easy. Thus, a mobile application testing company can help in achieving the goal.
Marketing Platforms
Mobile applications can engage their customers better to follow their purchases. More than 70% of users prefer mobile apps over mobile responsive sites on smartphones. It becomes easier to achieve the target market with the help of a mobile app. They use effective banners, ads email triggers, and other marketing tactics. In addition, the inbuilt push notifications in the apps gain the customers' attention instantly. Thus, it is an effective approach to keep them informed about a store's offerings.
Promotes Brand Recognition
A mobile application is used as a platform to engage with the target audience. An eCommerce mobile app focuses on providing possible solutions and products to the store visitors instead of advertising. This helps business owners in promoting their brand recognition in the market. A mobile app can save them from the slow process of data collection and can easily capture customer information and their preferences. This can help them in delivering personalized services. Enhanced customer experience ensures an improved brand image.
Stay Connected with the Customers
It is crucial to reach out to the right customer base in order to boost business revenues. Mobile apps only appeal to the potential audience, which is why investing in a mobile app can help in bringing forward your entire store infront of the customers, just a click away. Customers are not time-bound and can shop from their favorite stores regardless of the physical boundaries. They can browse an e-store whenever and wherever they want to.
Simplified Online Shopping & Transactions
A mobile store creates a direct channel for customers. It provides easy accessibility, simplified search options, etc. making it easier for customers to find and shop their favorite products. With a mobile app, users can complete their transactions within a few minutes. The quick sign-ups and login options provide them with convenient browsing platforms. A single step logout process reduces cart abandonment. Customers can keep an eye on their transaction history, and track their orders accordingly. This simplified process makes their shopping experience more fun.
Improve Social Media Process
Social media is an increasing trend and is expected to stay. Ecommerce stores integrate their features like social share, likes, comments, and in-app messaging to improve their business positioning. By improving the visibility of their site and products on social media platforms, business owners can enhance user engagement. Thus helping companies build their reputation with the help of social interaction.
Personalize the User Experience
Real-time data can help businesses in providing a personalized user experience. You can customize your app in order to provide a seamless experience. It is one of the most economical ways to keep a close eye on the visitor's behavior and manage the sales pitch to the target audience as per their expectations.
Ensuring Global Presence
It is extremely important to localize a store in order to reach out to the target audience in the global market. The multi-lingual apps can achieve huge untapped growth potential.
Effective Way to Spread the Word
A mobile app ensures gathering the attention of customers and can also boost their interest. The social sharing options can effortlessly spread the word. An eCommerce website requires a lot of patience to rank at the top searches in Google. On the contrary, in-app offers can automatically motivate customers to use mobile apps to shop. Also, social sharing options enhance the visibility of the store on social media platforms. They can boost customer engagement and achieve successful conversions.
Conclusion
With the increasing trend of mobile usage, it is worthwhile for each eCommerce company to invest in a mobile app. The importance of a mobile app in the industry is increasing at an exponential rate. And as online shoppers have many options to choose from, it is extremely crucial to stand out from the competitors and provide quality mobile eCommerce apps that can achieve a competitive edge.