10 Most Important Communication Skills for a Tester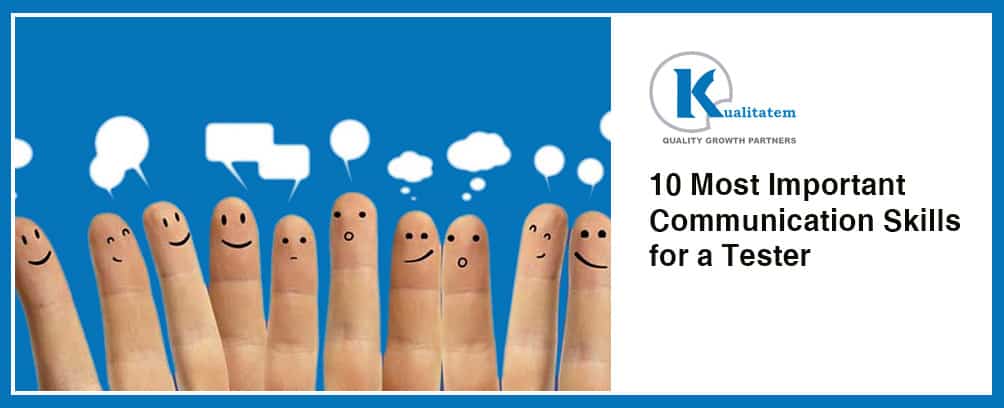 January 8, 2016
Kualitatem
Our age and time is often referred to as the epoch of information. But given a second thought, this information age can be rendered useless if we are unable to communicate effectively and positively. The need to say the right thing at the right time is the call of the day. After entering into the professional life, we get ourselves involved in business jargon so much that we tend to overlook if our message is being registered or not. We rarely invest effort into making things clear for people outside our domain. We should say whatever we want to say and say it in a way that no one finds it offensive. This is true for testers as well since they stand between developers and clients.
So what essential communication skills should a tester possess to get his/her message across?
Follow these simple rules:
Be Specific: Clearly summarize what the problem is – get straight to the point.
Be Organized: Report only one problem at a time. If there's more than one problem related to the feature you're testing, split them into separate issues so they can be quickly fixed and tested.
Listen Carefully: Don't interrupt others when they are clarifying their stance. To be a great communicator, you also need to step back and let the other person talk, and just listen.
Slow Down while Speaking: This helps testers talk clearly and better make their arguments.
Be Diplomatic: You should be able to tell others that they are wrong without them realizing it. Testers are likely to do this in all phases of the development cycle.
Understand your Listener's Body Language: As a speaker, this gives you an opportunity to adjust your message and make it more understandable and appealing.
Write Graciously: You as a tester should have excellent written communication skills in order to write good test cases, bug reports and so on. These testing artifacts are an essential part of QA and must be detailed and easy to consume.
Converse Efficiently: Occasional interactive meetings with other team members help resolve many misunderstandings which averts unnecessary friction. This enables employees to concentrate better on their work.
Attend to Clients Promptly: Regular interaction with clients helps you in figuring out what they want from you. The customers are bound to continue doing business with you if you attend to their needs promptly.
Rotate Information: Necessary information should be moved forward between you, developers and UX designers. Keep the strings attached between the three.
If you know about some other effective communication skills then sound off in the comments below! 🙂