Brace yourself… GDPR is coming!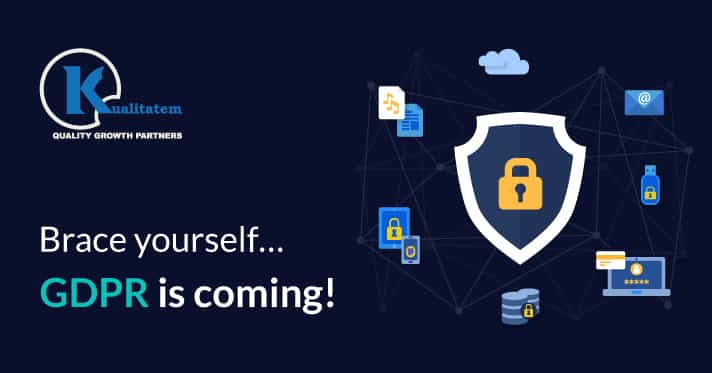 Data and maintaining its secrecy has always been a matter of great importance for everyone. Don't forget the latest fiasco on user's data stealing by Facebook that has alarmed everyone. EU's General Data Protection Regulation (GDPR) is the latest front-page news shaking grounds for some, while a sacred writ for many.
Entrepreneurs within EU or across the globe have a new regulation policy to follow after EU Data Protection Directive 95/46/EC in order to do business with EU vendors. A lot of talks are being held about GDPR compliance that will go into effect on May 25, 2018. So call it an upcoming mayhem or a Data security revolution or whatever…it's coming and we have got to stay prepared for it!
GDPR applies to all organizations offering goods or services to EU citizens, including the ones operating in the software testing industry. The amendment has been introduced by the European Parliament with the intentions to make the process of data protection and privacy more firm for all the EU citizens.
GDPR will give the confidence to as well as encourage every EU individual to gain complete control over their personal data and privacy. Whereas, for business dealings, one has to become more careful about how they use their customer's private data and credentials. Therefore, if you want to keep your business running smoothly, you must take GDPR compliance into full consideration.
Rules to be aware of
No one knew that after customer satisfaction, customer consent will become another huge concern for the business-heads. The following points will help you understand how you can take care of your business dealings under GDPR compliance:
Asking for the customers' permission for collecting and processing data. This consent form must be delivered in an opt-in format.
Anonymizing and hiding obtained data to assure privacy
Securing the customers by sending data theft and security breach warning within 72 hours. And if you are a data processor you must also notify the data controller in time.
Guarding data distribution across the networks
Giving users the right to view and edit data that is being processed and linked to them. Also, GDPR allows users the "Right to be Forgotten."
If the users ask, the relevant company is committed to removing all the data without an uncalled delay.
The compulsion to allocate a data security officer to oversee operational GDPR implementation.
Red Alert!!
If you don't comply with the rules, you can be charged with up to 4% of your total "annual global revenue" or 20 million euros. You just can imagine which is a worse and greater penalty for you here!
What do other companies say about GDPR?
Topmost companies like Microsoft, Google, Facebook, and other QA companies are all ALREADY set to implement the GDPR regulations and have begun practicing the best ways that work out under the compliance.
Facebook has created a very detailed account of its GDPR implication. In addition, it has also announced to hire 20,000 personnel by the end of 2018, only to assure the safety and security patterns (Adweek).
While both Facebook and Google have dropped privacy center features to facilitate users to view and edit their data privacy.
As per Digiday,"More marketers are treating GDPR as an evolution of existing data-privacy law, and not as a revolution."
Additionally, an AI-driven user behavior platform, Quantcast, suggests businesses consult their legal players to deeply understand the implications associated with your business in order to not feel surprised when the GDPR goes into action.
While everyone is all prepared to implement the compliance, so is Kualitatem! We are fully equipped to offer end-to-end GDPR compliance to our clients for safe and secure business transactions.