Secure Cloud Computing With Quality Assurance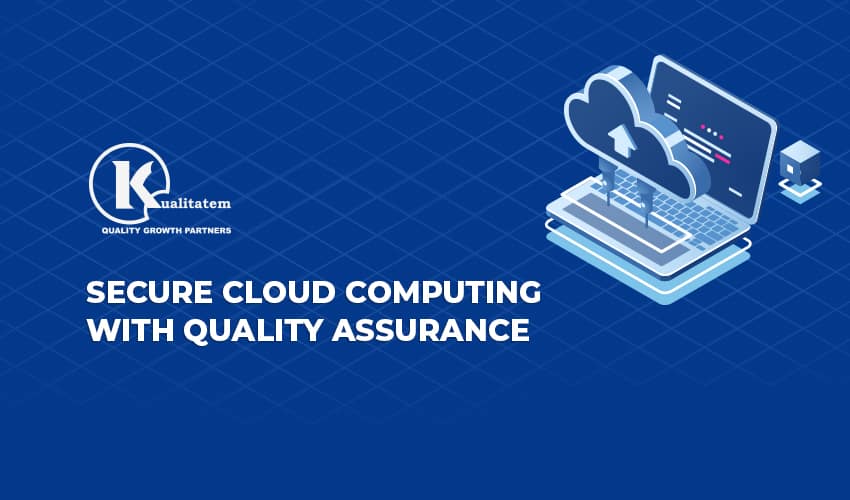 January 27, 2020
Hiba Sulaiman
Enterprises have witnessed massive technological changes over the years. The emerging IoT, cloud and social media platforms including products, ideas and technologies have changed the way organizations operate. These evolving digital technologies have also transformed consumer behavior which has led to a demand for a dynamic customer-centric approach. The only way organizations can survive disruption is by digitally evolving themselves. Modernizing IT infrastructure is a crucial component of a successful digital transformation strategy. With Cloud adoption, organizations have accelerated their business growth. Organizations embracing Cloud are bringing tremendous benefits including flexibility, cost efficiency and scalability to their business.
Digital transformation has caused tremendous disruption increasing the challenges for businesses today, which has led QA teams to think about how they can utilize the cloud as a part of their business processes. Over the years, databases, storage, online collaboration solutions, QA/Dev environments have gained much attention. It is also imperative to understand the issues and challenges QA testers face when testing environments use cloud data storage. Organizations opt for cloud penetration testing services to build a secure infrastructure, including the ability to encrypt it, move it and manage retention.
Cloud adoption has increased over the years. Organizations with fluctuating needs resort to the cloud as it can be scaled up or down based on the requirements. They no longer need to procure hardware, and cloud also provides enhanced collaboration, quick disaster recovery and IT infrastructure modernization. Pen testers ensure that cloud-based solutions are safe and enhance business data security and confidentiality.
Threats and Challenges in Data Cloud Storage
Data storage is the most critical component of cloud computing which makes the security of data over distributed computing as a major point of concern. There are numerous security issues associated with cloud storage, of which a few are listed below:
Anonymity – Typically, in cloud data storage, anonymity is important to hide the identity of the owner of data. While data anonymity comes with vulnerabilities including adversary threats, loopholes in the process of re-identification.
Availability – The main goal of cloud service is to provide high availability of data to the clients. Users should be able to get information anywhere, anytime. In a multi-tier infrastructure, cloud storage is prone to network-based attacks such as DoS (Denial of Service) or DDoS attacks. The cloud data storage lacks availability and a malicious insider can also be a big security issue.
Malware and Worms – Cyber-attackers can inject malware into cloud storage known as 'Botnets' that can compromise a larger network servers' computer.
Cryptography – in cloud computing, cryptographic techniques are used to overcome the loopholes in security areas. A brute force attack is possible due to large numbers in RSA and faulty implementation. Other issues related to cloud cryptography include poor key management, verifiable data, and computation efficiency.
Data Leakage Issues – When disk drive dies without creating a backup, it results in data breaches and data loss. Cloud users are concerned about the loss of privacy and have an effect on the SLA policy.
Account Traffic Hijacking – Attackers often access critical areas of cloud computing services, and steal credentials. It compromises the confidentiality, integrity, and availability of cloud services. Theft of credentials and other malpractices cause exploitation of vulnerabilities in software, that can lead to the loss of control over user accounts. Hackers can gain control over the user account, manipulate data or redirect customers to inappropriate sites.
Inference – It is a database system technique used to attack databases where malicious users derive sensitive information from complex databases. It includes deriving information that is hidden from users by using data mining techniques.
Inference: Inference is a database system technique used to attack databases where malicious users infer sensitive information from complex databases at a high level. It simply means finding information hidden from normal users by using data mining techniques.
Confidentiality Issues – Integrity is an important factor in the information system to protect the data from unauthorized access/modification. Security issues arise when security parameters are not defined correctly. Other attacks include the man in the middle (MIM) attack, data diddling attack, social engineering attacks, and session hijacking, which can affect the confidentiality of stored data.
Mitigating Risks in the Cloud – Quality Assurance Measures
Penetration testing services can help in mitigating risks associated with security concerns of information systems and cloud storage solutions. Since QA experts are keen to use cloud storage, they need pen testers to adopt security measures. They can use a three-tier structure to ensure safety:
The security concerns for cloud systems call for end-to-end visibility and control over data in the cloud system. On an application level, business data is stored at the SaaS (Software as a Service) provider data center. Malicious software can easily exploit vulnerabilities in the data security model for unauthorized access, thus cloud vendors like Google App, Amazon, etc. require administrators to use their algorithms with strong security hosts.
Service Middleware Level:
The increasing need for cloud security requires measures like protocol standard security, user authentication, and conceptualization, service credibility, spam snooping and sniffing.
A secure cloud authentication process should be provided at the infrastructure level. The security risks to the cloud systems should be addressed while providing on-demand resource availability for VPN (Virtual Private Network).
Organizations no longer need to invest in new infrastructure as cloud computing offers various IT-based solutions. Despite all its features, the security of data storage is a primary concern for organizations. Penetration testing services are performed to test if cloud storage is safe and secure from all aspects. Pen testers should keep these challenges in mind when using cloud-based solutions.