Asia's Online Food Delivery Future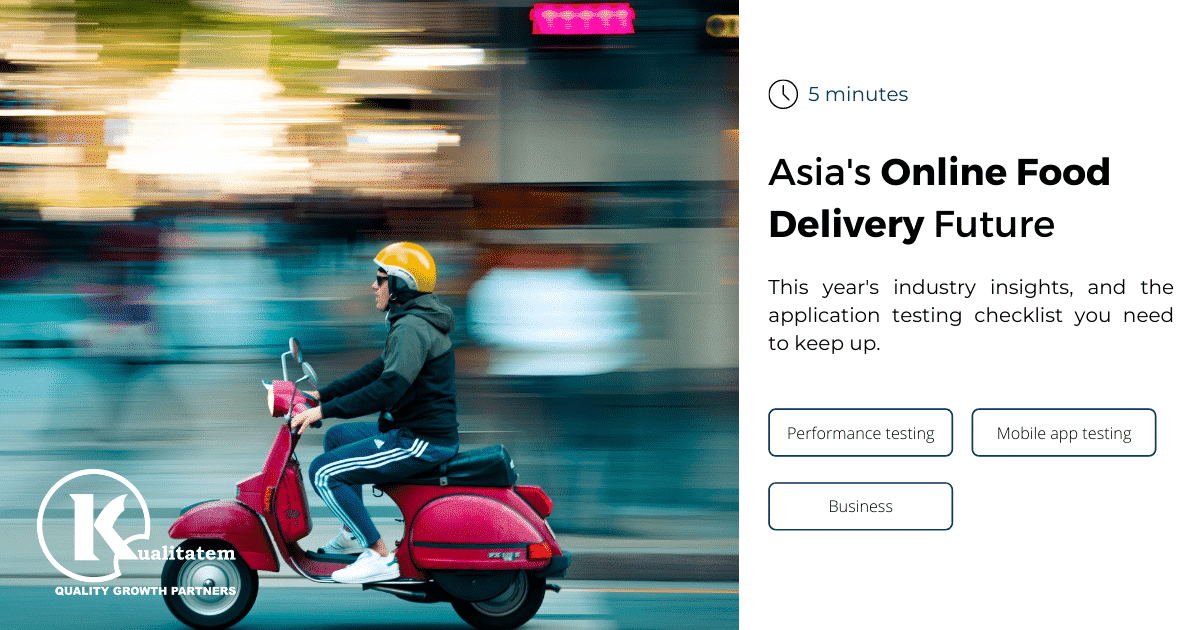 August 9, 2021
Maira Asaad
This year's industry insights, and the application testing checklist you need to keep up
How online food delivery services are reshaping the online market
Asians love their food – possibly more than anywhere else in the world – and the online food delivery business in Asia has only been burgeoning in recent years.
A food delivery app promises food at your doorstep in just a few taps – and the software has to be constantly tested to ensure that this promise is being fulfilled.
Currently, the major players in the online food delivery market in the Asia-specific region are Foodpanda (a regional brand of Berlin-based Delivery Hero), Grab, Gojek, Deliveroo Plc, while players that lead in America include Uber Eats, Zomato, GrubHub, to name a few.
According to Statista, the global online food delivery market was worth 107.44 billion U.S. dollars in 2019 and is expected to grow to reach $154.34 billion US dollars. Others talk about how the coronavirus has put restaurants at the mercy of tech industries, but the consensus seems to be clear: the pandemic has allowed food and grocery delivery services to rethink their business models and how they can compete online.
Currently, the major types of online food delivery models look like this:
Where restaurant marketplaces direct orders to restaurants and manage payments and delivery for them, through their fleet of independent riders connected by their mobile app.
Fully integrated virtual restaurants
Virtual restaurants develop their apps, prepare food by themselves, and operate in-house delivery fleets. Fully integrated operators usually have multiple kitchen hubs that cater to food orders of a particular area. There are two types of services offering: scheduled delivery and instant delivery.
Ghost kitchens, also known as cloud kitchens, dark kitchens, or less excitingly, virtual kitchens, are delivery-only restaurants. Their food is real, but the restaurant doesn't exist anywhere physically (of course, there's a kitchen space to prepare the food). It's an idea that's been gaining traction, especially to empower independent kitchens to challenge large chains. The biggest plus-side of "ghost" kitchens is that multiple restaurant brands can share a single kitchen space to serve on-demand meal delivery in specific areas.
Meal-kit delivery contains portioned fresh ingredients and recipe instructions, often for a nutritious meal. The customer then prepares and cooks this for themselves. This service usually caters to a niche consumer demographic in food delivery and is popular for its subscription models.
Among rising contenders, the most popular business model involves service providers dealing with websites and mobile apps on behalf of restaurants (for a sum, of course).
The second model vets, recruits, and manages a pool of delivery couriers, and charges consumers for delivery.
The third model gaining traction, especially in Asia, is the "ghost kitchen". China and India lead with the most number of ghost kitchens, and analysts agree that the ghost kitchen economy is here to stay for a while.
A variety of mobile app testing companies are now solely responsible for testing an app on behalf of their customers (organizations or restaurants which plan to develop an app).
The assistance of a mobile app testing company is crucial for an effective and efficient testing process. We generally recommend testing on real devices, because although emulators and test systems are great for testing in the initial stages of development, the application must also be fully tried on real devices.
Testing on genuine devices ensures that the test results are reasonable, and provides testers with excellent ideas about the look and feel of the application and its overall convenience. Several types of testing correspond to the requirements of a great mobile app, which we've covered down below.
While regional statistics vary, the projected growth for the food delivery industries, even with the setback from the pandemic, looks something like this:
According to the ASEAN Post, the online food delivery market alone is worth more than 35 billion U.S. dollars annually. In Southeast Asia, the food delivery market is expected to grow from two billion U.S. dollars in 2018 to eight billion U.S. dollars in 2025.
All of this corresponds to the growing number of smartphone users in Asia, which means access to online food delivery apps is growing (read: load testing is going to become more and more frequent). The chart below indicates the growing number of smartphone users by region and country, with China leading at 911 million users – nearly 70% of its entire population, and India leading behind at 439 million users.
As the demand grows, some of the biggest names in the food delivery app industry as of 2021, according to a CNET ranking, are being ranked through some key factors: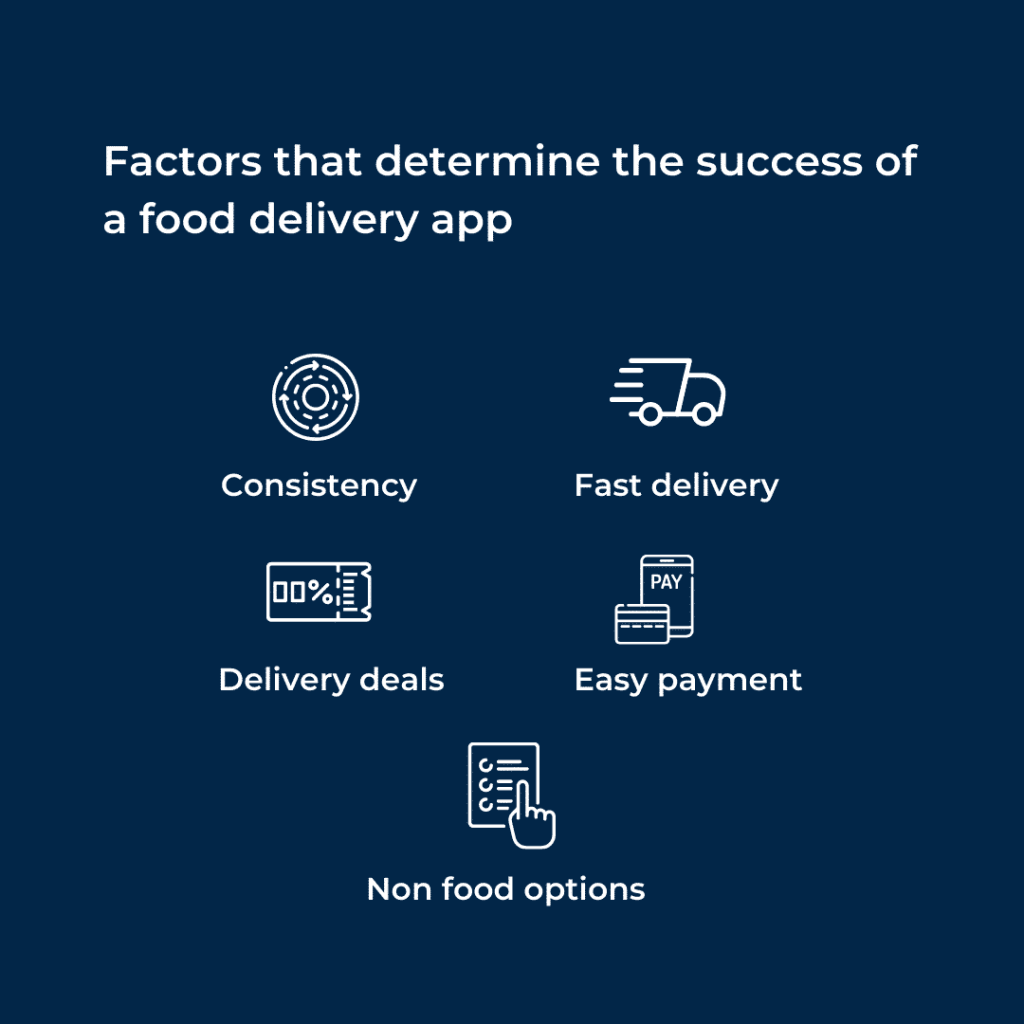 Other factors that determine how successful an app includes the following: variety in options, available payment methods, the ordering process itself, delivery and packaging, and most importantly, customer service.
So, with such a wide range of channels to cater to, where do you begin testing?
Testing for food delivery mobile applications
When a customer logs onto the app, their ordering experience usually comes with a few simple promises. For instance, here's the four-step experience that Foodpanda offers:
Find a restaurant. Enter your delivery address in the location form to see all the places that deliver to your location.

Choose your dishes. Browse the menu of the chosen restaurant, select your dishes, and add them to your basket.

Checkout & Payment.

Delivery.
Sounds simple enough – but it's precisely because of these shifting demands on food delivery service providers that apps become prone to bugs. Basically, you're going to have to go through it with a fine-tooth comb each time.
We've made a general checklist to give you an idea of everything you should be tracking and testing to gauge the performance of your food delivery mobile app.
What does each of these testing types look like for a food and grocery delivery app?
Functional testing
Ensure that the application supports and works with various payment methods.

Check whether other services and platforms, such as bank accounts, are integrated properly.

Make sure that quick ordering options, such as popular items, past orders, special offers, deals, discounts, etc., are available and working correctly.

Ensure that push notifications about the order delivery are working properly and appear even when the application is not running.

Ensure that customers can pin their address and location accurately.

The order tracking option is working correctly.

The delivery driver's location appears correctly.

The route of delivery is correct.

If voice controls are available, make sure that different prompts, accents, and responses, are compatible with the application during the delivery order.
Performance Testing
Checking whether the application can function normally under various load conditions.

Evaluating the application's performance at peak usage.

Checking how an application reacts to short usage spikes.

Testing how the application performs during long periods of heavy load.

Identifying the bottlenecks in the performance of the application.

Checking if the application's response time is following its requirements.

Checking whether the application's usage of resources, battery consumption, and memory leaks do not exceed the volume specified in the requirements.

Testing if the application works properly when the network connection is switched between network modes.




Safety testing

Ensure that bank account details, sensitive credit card data, and other payment details of the users are protected in the application.

Ensure that the user's information is safeguarded when contacting the delivery driver anonymously.

Ensure that users' sensitive personal information, such as location and address, is sufficiently protected

Minimizing the chances of account takeovers through the application as much as possible through a smooth authentication and verification process.
Usability testing
Ensure an easy installation and registration process.

Ensure smooth catalog and menu navigation.

Check whether all food products in the application are displayed properly.

Regularly check if offers and promotions are up to date and can be availed easily.

See that delivery costs, deals, and discounts are applying correctly.

The chatbot is interacting properly.

The time of delivery is estimated accurately.

The checkout process in the application is smooth.

The rating system is functional.
That's a lot that could be going wrong – or a lot that could be going right if you're keeping up.
Will food delivery services continue to grow as predicted (i.e. do you really need to be taking the pains of the checklist above?)?
Some people don't seem to think so. The food delivery industry is not without its pitfalls: restaurants are trying to work their way around third-party service providers to avoid what they seem to think is a mass extinction, delivery workers complain about notorious working conditions, and apps have been known to list restaurants without prior agreement.
Others are innovating to combat the bad rep, as well as to improve the customer experience: rapidly evolving technology is crafting new experiences. For instance, Domino's, which was one of the pioneering businesses for online food delivery and introduced a voice assistant for placing online orders, is now reporting that 75% of its sales come through digital orders.
Whether it's long-term convenience, or because of health and safety conditions created by the pandemic. Whatever the case, food delivery applications are the need right now. And to enhance the robustness of your application and the overall user experience, proper software testing is the way to go.